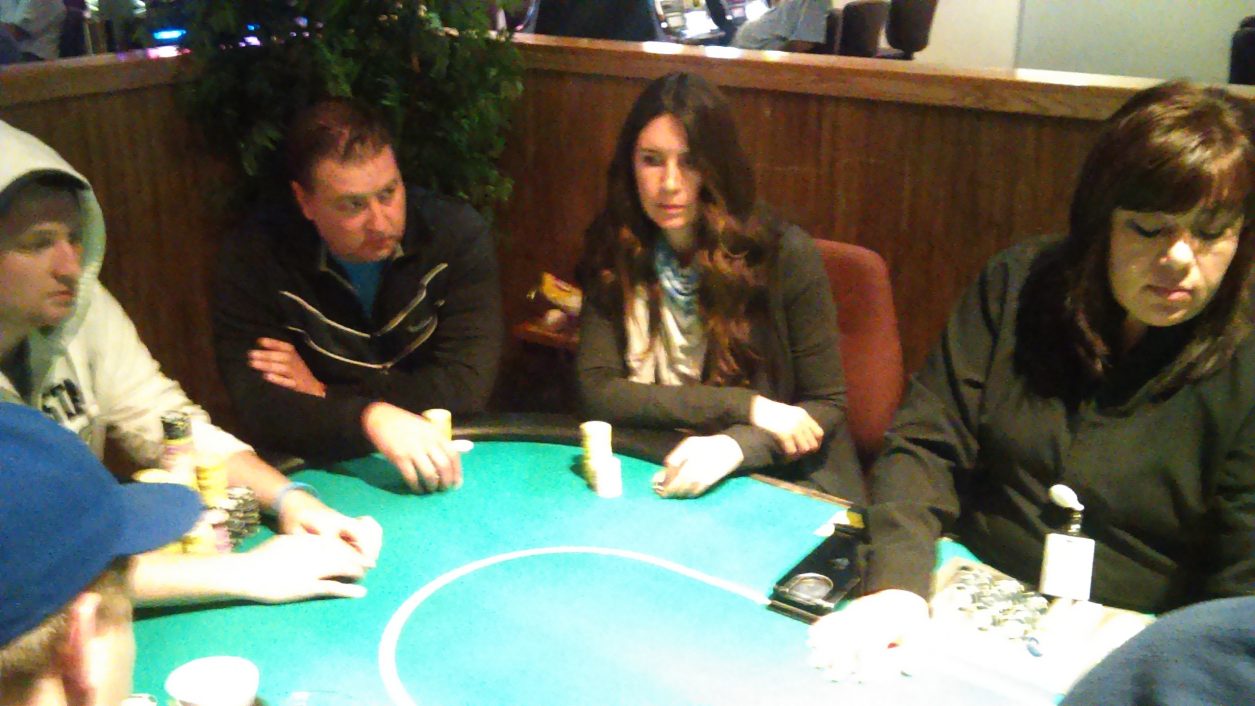 It is my very first outing since my breast cancer treatments, and my husband is taking me to the Ho-Chunk Casino in the Wisconsin Dells.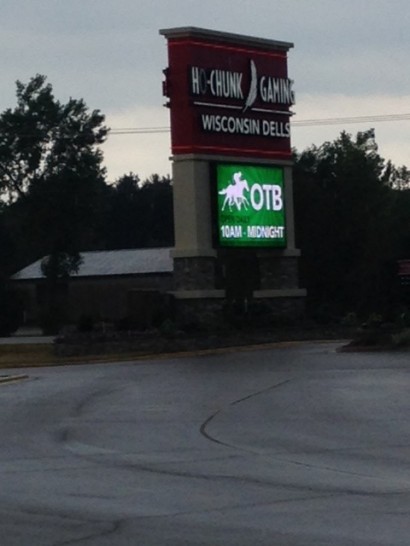 I took this particularly bad photo at a distance yesterday morning for a dramatic effect.
Now before we get all judgey and think what a terrible husband I have, and what a bad idea it is dropping me into a smoke filled casino after we just carved out, cleaned up and radiated my body for breast cancer over the past 6 months…this was actually my idea. I want to start living my life with my husband more enjoyably as I mentioned in my last post. And since we both love to play tournament poker, and the PPC Poker Tour was making a stop in the Dells, we decided to play. Included in this tournament package, they were also giving away seats for an Aruba poker event in November, which we are also going to attend. Our good friend Mark 'Poker H0' Kroon is a PPC featured pro, so we also wanted to join him for the fun weekend.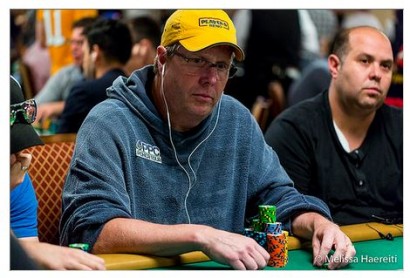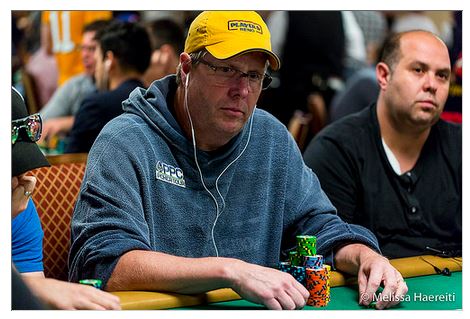 Mark "Poker H0′ Kroon; photo courtesy of PPC Poker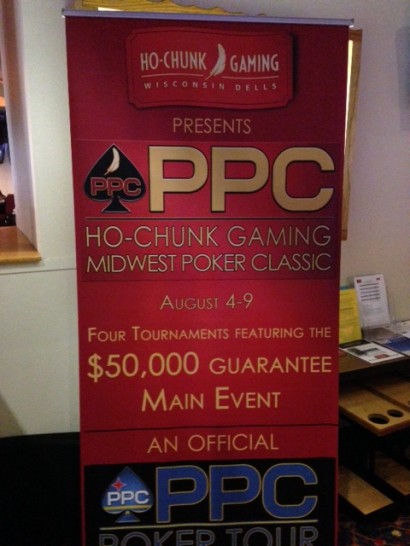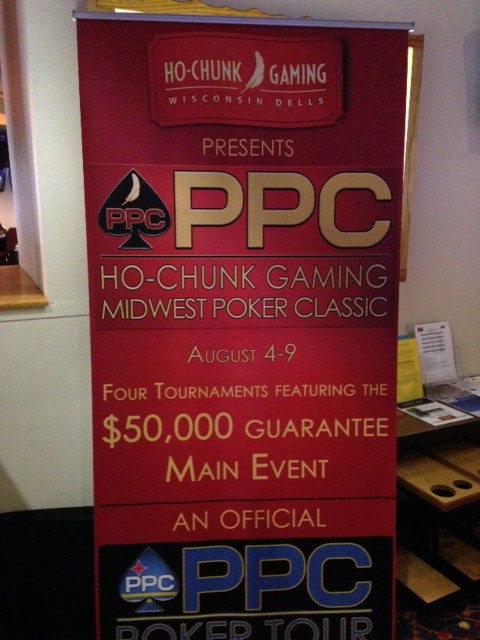 I didn't realize the lasting effects of radiation (pain and fatigue), otherwise I may have opted out of this trip. However my over-riding cabin fever has trumped everything. I couldn't stand being in my downtown apartment one second longer. I needed to see people, hear sounds, breathe in the 'fresh air', and feel the cards and poker chips through my hands. So here we are. I missed event #1 on Thursday night because I was 'too tired'. Do you know how many times I have used that excuse legitimately over the past 6 years? It's exhausting. With that, I went to bed in our luxury hotel room at 8:30 pm, right after a healthy dinner of Hawaiian pizza. Not before donating a few hundred dollars to the Ellen Degeneres slot machine however. Rough start.
Friday: Day 1 Main Event. I woke up, looked at my husband, and was creatively inspired to perform this little song & dance routine for him (which he video taped). Lyrics "My husband is a douche…(repeat)"
Down to the poker room for the main event.
The event started at 1:00pm. You pay $370, you receive 25,000 chips, and your goals is to play your hands to amass chips, and ultimately play down to one player. I couldn't really get much going a few hours into play into the tournament, at which point I was dealt pocket aces. Long story short I lost all of my chips Aces vs Eights. Bummer.
Lucky for me though is this is a re-entry tournament, of which I promptly do. Actually I went and had a cocktail to 'shake it off' first before I did. I then battled up and down another 8 hours and built 93,400 in chips to end the day. Monty played great and is leading the field second in chips with 240,000 chips.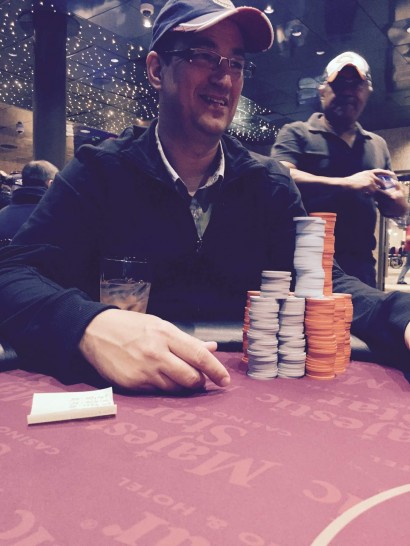 This is Monty with a big chip stack from another tournament he won a couple of weeks ago. However he looks the same and his chip stack is just about as big going into day 2.
By the way I was super comfortable all day wearing my Raquel Allegra tee & Scarf, Helmut Lang Sonar Wool Jacket, MOTHER denim and Saint Laurent slip on sneakers.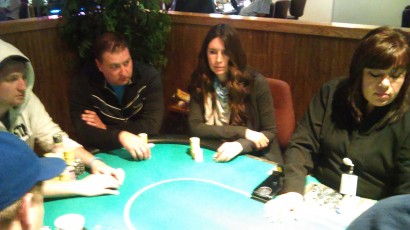 That's me yesterday, at the featured 'live stream' table in seat 10. Two to my right is the chip leader Nik Stone. Nik is the guy who knocked me out first time with his 88 vs my AA. He is a nice guy, good, full time professional player.
In tournament poker 10-15% of the field is paid, with the highest payouts to the top spots. Since we are having another day 1B today, we should expect at least 300 players total. 30 players should get paid, 30th approx. pays $400 lets say, but the 1st place finisher wins $20,000. Monty & I play to win! Or try to anyhow. It's very hard to actually outright win poker tournaments. You need to overcome a lot of obstacles, and be skillful, smart, patient, intuitive, and lucky. This is why Monty & I love poker so much. It's not just gambling as a lot of people think. It is a game of skill; math, reading people and it's constantly dynamic. In tournament poker specifically you have to win tons of battles to win the war. We love to discuss poker strategy and how we would play hands differently. It's keep our brains working and we love it.
Day 2 starts on Sunday. There should be approximately 60 players that make it from both day 1's. Wish me luck! Monty & I have an entire day to rest and enjoy the day. The search for healthy food is a priority. We will also be cheering (or railing as they say in poker) Poker H0 as he plays today 1B.
I am so tired, but so appreciative of every little thing, and so very happy. While I may be poking fun at myself here at the Casino; coming here for a big night out, or on a date is incredibly significant to a lot of people so I sincerely hope they have the best time ever.  And if I cross their paths or sit at their table I will do my best to be as kind as possible and make sure they are having fun. Even if I am winning their poker chips.
Be nice to people. Be good to yourself too.  I'll keep you posted about day 2 on Monday assuming we are both playing all day tomorrow. You can watch the twitch live stream here, but not sure if I'll be on the feature table tomorrow. Talk to you soon. I get to go home to this tomorrow hopefully after I win. xo Pdub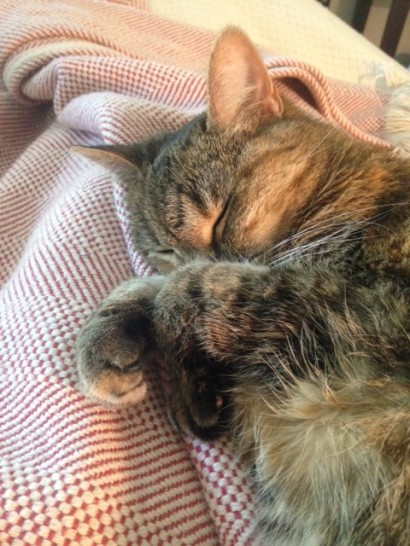 Related Posts