I am happy to introduce my first guest contributor to PdubXO: LA Costume Designer & Stylist Danielle King. 
Danielle's work has included editorial styling for major magazines, personal styling for the LA celebrity community, and a long resume of costume design in the film & TV industry. Her Costume Design work earned her a 2013 Emmy Award for Outstanding Costume Design for a Drama Series. 
Danielle keeps the LA community stylish with her unique approach of 'California Ease' dressing; often mixing basics and vintage pieces with couture, and with never enough accessories. Her signature style is a widely coveted approach to dressing, keeping her in demand and always on the go.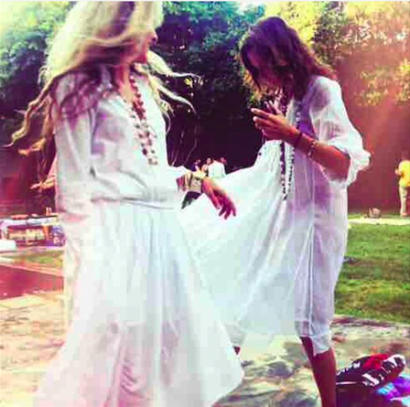 Danielle (left) in her garden with friend Tierney (right)
She also owns and operates 'Canyon Gourmet', a Specialty Grocery Store in Topanga Canyon, with her partner Peter while raising her two beautiful daughters.
Danielle is known for her signature style, but it is her warm, kind and magical spirit that makes her one of the most beloved stylists in the country.
I connected with Danielle in 2011 via email after I had been blogging about her TV costume design. Since then met in person several times in LA, and quickly established a connection over fashion and life philosophies. Over time we have developed a friendship that I cherish. Danielle was an important confidante and advisor to Iona Boutique and I'm sure you'll appreciate her insight into this season in Fashion.
Q&A with Danielle:
Any favorites this Spring?
I'm loving what Dries (Van Noten) is doing. Always have, but he continues to impress. He is such an artist and appeals to the young and the old.
And cross body bags. Especially Agnes Baddoo crossbody bags. She's an LA designer and she does it just right.
(PW: Fun fact, this was one of my picks for my Xmas wish list)
Any emerging designers you are impressed by?
Yes, a few I like right now: Co-Collections from LA. Their collections are so 'Lady'. Also Vanessa Seward. Both Co and Vanessa have such a clear and consistent point of view. I think New York designer Ulla Johnson is making some lovely things, pretty bohemian dresses & beautiful sweaters made in Peru. Her designs are just effortless to wear, and they are meticulously made. I am also liking the Brock collection. They too have very pretty, feminine dresses.
I'm also really liking Jesse Kamm, designed and made in California as well. This season she has her signature  'Kamm Pants', paired with easy tanks and unstructured overcoats and vests.
I like seeing something other than jeans these days right? What if we could all look into our closets, take jeans out of the equation, and ask 'what am I going to wear today'? Wouldn't that be more interesting?  Also these designers kind of reflect what I'm personally shifting towards these days. I love wearing a pretty dress right now.
What are you seeing a lot of these days on the streets of LA?
Color! Lots of color. And a lot of graphic prints.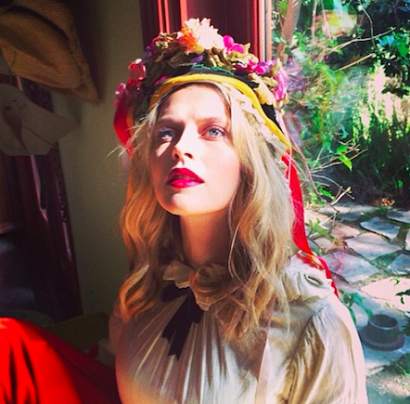 Stylist: Danielle King  Photographer: Tierney Gearon  Model: Teresa Palmer
What's the 'must-have' client request right now?
The hot item is the Marjorque shoe by Hermes. It is gorgeous with a low heel and very simple.
Also the crossbody bag in dark green. Dark green is the new black of the season.
What do you think of retail these days? Where do you shop?
I like and prefer going into a store, and always want to support local, but I find myself slightly uninspired lately. I might start hitting the flea markets and vintage shops again soon to look for some unique pieces. Having said that I am looking forward to Vanessa Seward opening her boutique soon.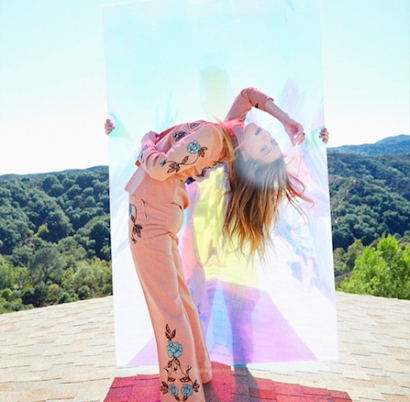 Stylist: Danielle King  Photographer: Tierney Gearon  Model: Amber Heard
Danielle found this great suit at 'Palace Costumes' in LA. I thought it was this season's Gucci. Doesn't it look like it? Just goes to show the talent of Danielle as this was taken over a year ago.
What do you think of the new approach of showing collections of the season within that season? Some designers, like Tom Ford, are planning on showing Fall in September and making his collections available next day for purchase.
I like it a lot actually. It's in the season, you can buy something when you're actually excited about it and can wear it. Plus it keeps the fast retailers from stealing the designs.
What do you think of the celebrity & musician packed audience for the Fall 16 Saint Laurent show in LA recently? And what did you think of the collection itself?
Super cool. I mean it's based on a heritage of rock & roll so I loved to see Hedi Slimane doing it right here in LA. His collections just keep getting better and better and this was my favorite one yet. Those dresses and long skirts were so good.
What do you think of Hedi Slimane's ' Fall 16 Couture' collection in Paris?
I liked it and I think I hear Karl Lagerfeld knocking on his door maybe as the next chosen one for Chanel? That's what I think is going to happen.
What are your favorite go to blogs & publications?
My favorite blog; Keep it Chic . Preston Davis, who writes it, is such a great gal. She comes from Vogue & has a very good eye. She gives great information and has a very fashion forward style that's still wearable.
Magazines? Die hard for French Vogue. Must. Also World of Interiors & Self Service. 
Where do you get your own style inspiration from?
I get it from objects and textiles and nature. 
I love the style of the elderly. Seeing them wear a beautiful coat or string of pearls from decades ago is so inspiring. I like style not fashion.
I am super inspired by Georgia O'Keeffe's Ghost Ranch in New Mexico.
Also Yelena Yumchuk. She is a photographer, she does work for Italian Vogue as an example. From her model selection to photography style, she is very specific. She is also a painter. She is a true artist. She inspires me. 
How would you describe your personal style?
French Resort. Simple with classic pieces. A great white shirt and loafers with layer upon layer of bangles.
Thank you Danielle, xo Pdub
You can follow Danielle on Instagram here for more style inspo, fashion insight and simply beautiful images. 
Related Posts