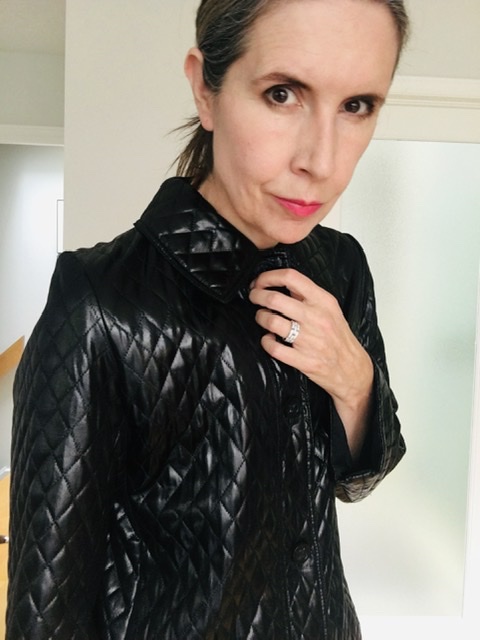 This is my opinion. Fashion as we know it is gone forever and it's not coming back.

The industry was a giant bubble ready to explode, and the pandemic has just sped things up and popped it.

But that doesn't mean there still won't be new clothes to wear, but what we wear and how we acquire them will just be much different.

I have to be honest, I'm sorta ok with this. Apart from people losing their jobs & their dreams, (which really, really sucks), I think major changes are inevitable and necessary. I for one, became exhausted with the never ending push to buy more. I was one of those people on the retail side pushing the sale of lots and lots of clothes. But I bought into it, I really believed we needed to keep filling our wardrobes with interesting, beautiful additions every season. I've changed my mind since then.

By the way, iona boutique never would have survived this pandemic.

So what's happening? This is Grim…
Bankruptcies: Neiman Marcus, JC Penney, Barneys, J Crew, Brooks Brothers…all filed.
Store Closings/ Jobs lost: According to a recent NYT Magazine article, Diane von Furstenberg announced she would lay off 300 employees and close 18 of her 19 stores and Gap Inc. couldn't pay rent on its 2,785 North American stores.
New designers are not being funded, fashion shows are being cancelled, and there are almost no more seasonal collections.

But…Boom:
Lululemon shares have surged.
Farfetch shows Q2 revenue gains.
Entireworld (brand) sales have exploded: According to the same NYT Magazine article, on an average day the brand sells 46 sweats. One day early in the pandemic, they sold more than 1,000. When they ran out of sweatsuits, shoppers moved through the T-shirts, socks and underwear. By month's end, the brand's sales were up 662 percent over March the previous year.

But why the simultaneous contrast of bankruptcies vs boom?
Many of us are at home, and likely will continue to be at home and have no real reason to buy another great blazer or midi dress. I love wearing those things too, so I'm not hating, I'm just living in the reality of this economic, public health and social crisis like everyone else. It's not just my opinion, grim things are happening everywhere and the numbers and the facts like I listed above, show it. And apart from people not buying what we have known in recent decades as fashion, they are instead predominantly wanting only comfortable clothing that is easy to wear.

I don't think things are going back to 'normal' as many people seem to think. I think we are just entering into our new world of managing disease and poverty and it's going to be devastating and difficult for many. As a result, our spending and consumption habits are going to change, well, they already are.
A stylist friend of mine in LA told me recently that she believes that 'Some Couture may survive servicing the richest of the 1%, while most of us, the rest of us, will be wearing what we have, or we will be extremely cautious how and where we spend our money.' I have several other friends in the industry in NYC saying similar things.

I was driving around in Ottawa the other day running an errand. You know what I observed that was busy? Value Village thrift shop, Michaels craft store and there was an hour line up outside of Fabricland in 30Degree/ (90F) weather. This is happening in response to Covid where people are buying pre-owned clothes, people are making their own clothes, and people are mending and upcycling their existing clothes. Try finding a good second hand sewing machine right now, or clothing dye of which there is currently a world-wide shortage.

You know what wasn't busy?
Restaurants and bars, dry cleaners, commercial offices & small local shops. I'm guessing Nordstrom hasn't been very busy, but honestly I haven't been down there since the beginning of the pandemic.

If people are buying new clothing at all they are doing so more cautiously, in different ways, and in different places.
In a recent WWD article titled 'Studies Find Majority of Consumers are Altering Purchase Behaviors amid Covid-19', the research found that people simply do not have the money to shop. 30% of Gen Z and Millennials are on unpaid leave, and more than half of them are expecting things to worsen.

However, the article continues, the pandemic has made them, in general, more sympathetic resulting in greater efforts to support small local businesses.79% of them will make purchasing decisions based on the sustainability of the company and their products because it makes them feel happy to support sustainable businesses. Conversely, a third of Gen Z and Millennials ended relationships with companies doing any harm to the environment or who did not align with their values.

So Who and What will Thrive & Survive: I think…
Direct to consumer brands: These brands have no seasons, and are light on the novelty pieces. Brands like Everlane, Outdoor Voices. Sezane.
Lifestyle Brands: Lululemon, Nili Lotan, NSF, Patagonia
Streetwear brands & Luxury Streetwear: Nike, Adidas. Kith, Noah, Off White, Balenciaga, Gucci, Fendi.
Resale, Thrift Store & Consignment Stores: online and in-store
Sustainable brands: there are lots out there, but 'read the fine print' on what is truly sustainable.
Brands with gender neutral designs
One-stop-shop businesses: selling a diversity of products including sustainable fashion, home goods, beauty & self care products.

Who do I think needs to adapt immediately to new purchasing behaviours?
Designers & Brands: I think they need to design with softer fabrics, and with more relaxed silhouettes. They need to produce less, have fewer seasons and market digitally.
Small Retailers: I think they need to adjust their buying with sustainable, comfortable clothing & diversify their product lines (home goods, beauty, self care). If they have a physical store, they must create an online store as well.

These changes that are happening are abrupt and grim and (I think) permanent. Our new world of fashion is being revealed and it's different. It is simpler, slower, more thoughtful and definitely more comfortable. It's an adjustment, and it's going to be painful for many people, businesses and brands, but it may morph into something…better? I hope businesses and brands adapt quickly, because I, as Monty knows, love to shop. To see some of my favourite businesses and brands to shop in the new fashion world, see my list below.

What is my fashion life like now?
I'm enjoying working with my existing wardrobe, upcycling some of my pieces, and filling in 'new' pieces either through thrift, consignment or a sustainable fashion brands/ retailers. I'm wearing pretty things that make me feel happy through bold colours and through beautiful fabrics that make me feel good. I'll accessorize accordingly when I'm heading out the door with a great bag, hat, and of course a fabulous face mask. 🙂

Currently I'm working on my dying skills and making colourful comfortable basics. I've started giving away these pieces each week on my Instagram page in exchange for a Food Bank donation, tagged #DignifyWithTieDye. So please come visit me there to see my creations and watch my progress.

Thanks for reading this. If you have any comments or feel differently with anything I have shared I am open to hear your opinion. I also have some reader questions below, that I would love your feedback on. Stay safe, shop smart, support others! Pamela

My LIST of favourite places to shop:
Resale, Thrift, Consignment:
Valamode: I think they are the best luxury reseller out there. The owner is super knowledgeable and finds the most incredible authenticated handbags, shoes,jewelry and accessories including vintage, pre-loved, new, and limited edition items. Do you have a wish list item? Let Dia know, she will be on the lookout for you. I have bought and sold a number of pieces here, and stand behind their service. Check out some of these goodies online.

Clothes Secret: This my neighbourhood consignment store, and I love them. They carry mostly moderate brands, as well as some designer finds. Their shop is in Old Ottawa South and you can also shop online. They set up their online store very quickly so be patient as they continue to grow this. I'll post some of my great finds in a future post.

Poshmark: It's enormous and you can find just about any pre-owned item you want. Place your bid with the seller on items that you like.

Retail Small Business:
Stomping Ground: This is what a retailer should look like. They have a great eye for cool sustainable, gender neutral comfortable fashion, as well as grooming products, accessories (their sunglasses!), home goods (the candles!). And it is owned and operated by two of the nicest guys in the world. Truly, they are a favorite of both Monty & I. They have a beautiful shop in Ottawa in the Glebe, and their online store here for everyone. 
Schad Boutique: The owner has a great eye for fashion, and is picking up some brands in the aforementioned categories. I'm seeing more and more lifestyle pieces and they are fantastic. They have an outstanding online store, and terrific customer service. They also have great shoes, and home goods, accessories & beauty, making them a wonderful one stop shop.

Lifestyle Brands & Direct to Customer Brands:
Raquel Allegra: If you know me, you know she will always be a favourite of mine. Also an inspiration to me as she is a master of tie dye and garment dying. Her grace and mind-blowing creativity are what make her pieces so special. They are always unbelievably comfortable and I cherish all of mine. Made in LA.

NSF: They always have a fresh take on sweats, basics and have the coolest, best fitting pants. I love the people at NSF. Made in LA.
LEV: Elevated basics, that I just profiled in this blog post
Avrio: an eco innovative brand of gender neutral cool kicks, launching this December.

Doen & Donni: I haven't purchased anything from either of these two, but I hear they're great.

Questions for Readers: What do you think?
What's going to happen to the fashion publications and news, both print and digital
What's going to happen to the models & brand influencers?
What about the manufacturers?
What about all the other ancillary fashion businesses?
Do you think footwear, jewelry and accessories will be affected in the same way as basic clothing?
References:
NYT Magazine: 'Sweatpants Forever' – Stephanie Gabor, August 6, 2020
WWD: 'Studies Find Majority of Consumers are Altering Purchase Behaviours Amid Covid-19' – Alexandra Pastore, August 13, 2020
Related Posts