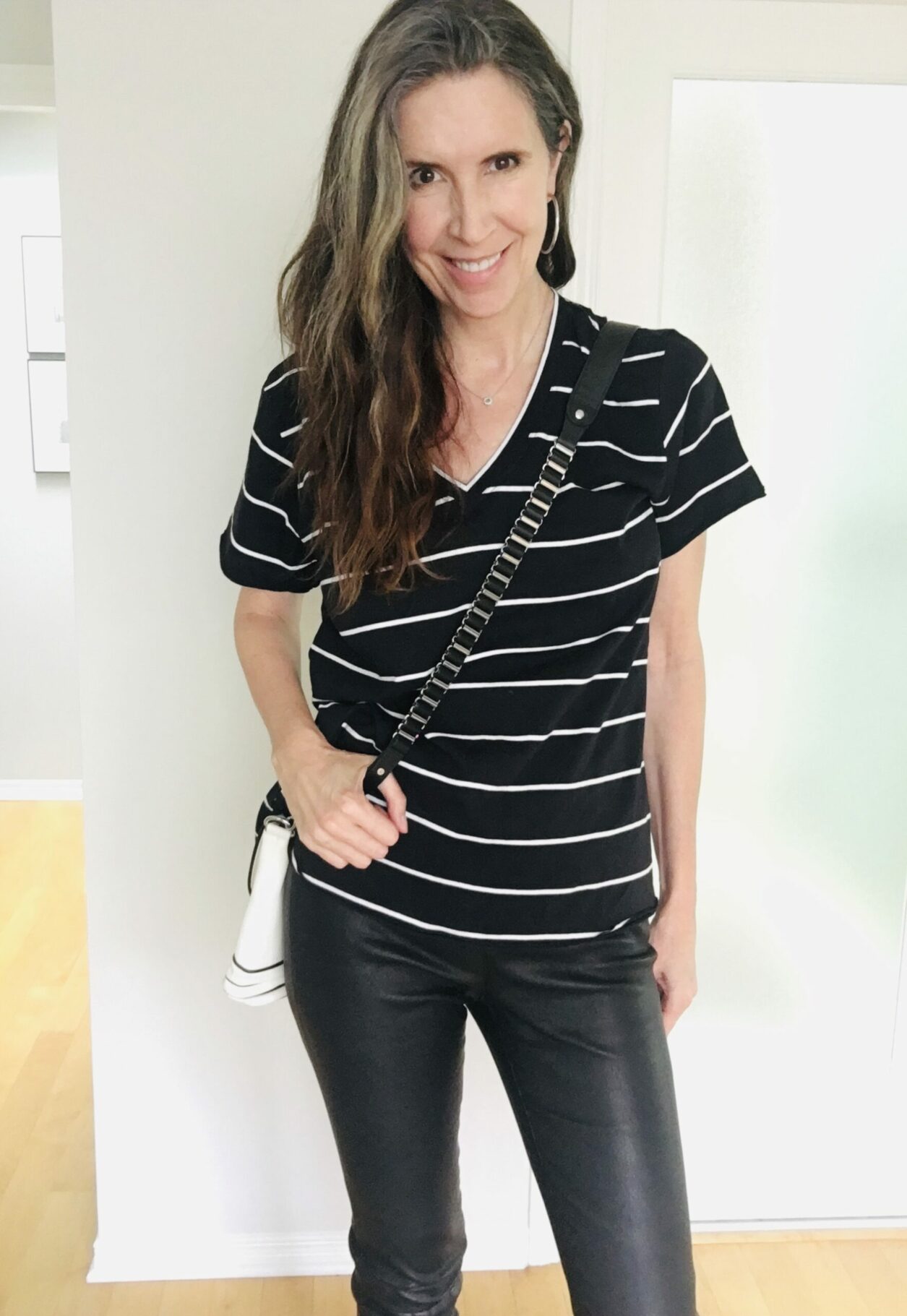 Here is a company that has everything to like about it. The clothing, their mission, the makers and the founders; are all things you will fall in love with.

Lev is based out of my former hometown Madison, WI, started a few years ago by founder Krystle Marks. I met Krystle at my boutique iona, when she was working as a stylist, and LEV was just an idea. Krystle was joined by Abby Felix Winzenried as partner who shared her vision, and to run operations.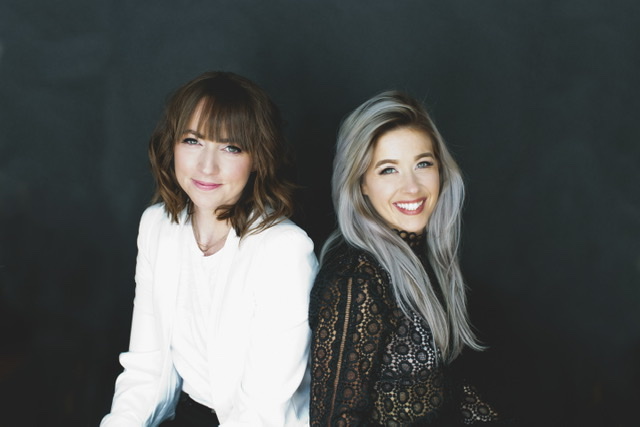 Lev became a reality a couple years back, and I finally got around to adding a few of their pieces to my wardrobe. I couldn't be happier.
This excerpt is taken from a recent Lev.Apparel IG post, in their words:
" Lev is built on three pillars:

Body Celebration:
We understand that one design does not fit all. Therefore each item they produce is purposefully created to celebrate and highlight the best features of the female body. We produce clothing that caters to every body type and allows women to feel confident in their own skin.

Anti-Human Trafficking:
We partner with two artisan groups, Work + Shelter and Sonica Sarna Design, to manufacture our ethical clothing. These partnerships create job opportunities for women living in New Delhi. When you purchase from Lev, you are offering fair-wage, dignified work to susceptible women.

Women Empowerment:
Together, the two pillars above create a cycle wherein women empower women. Each clothing item we design works to celebrate the female form while every purchase from us creates job opportunities for at-risk women living in New Delhi." – Krystle – Founder, Lev Apparel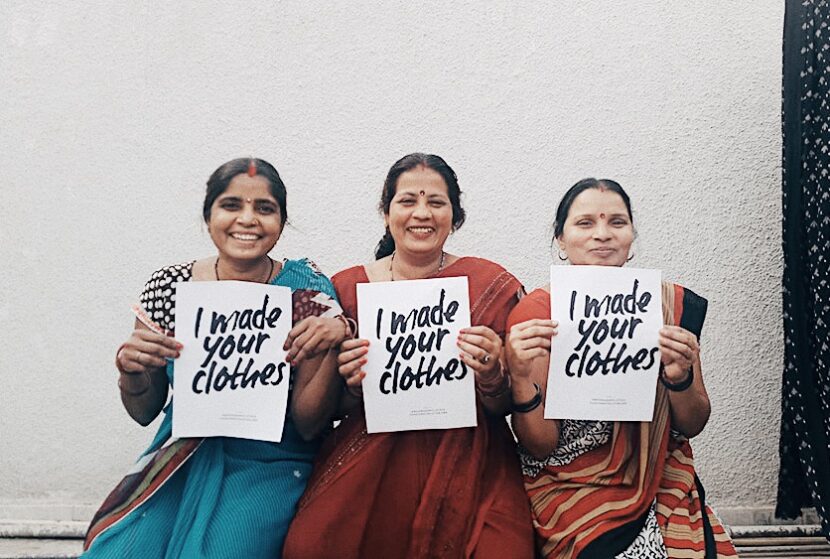 And what about the clothes?
I would describe them as essential wardrobe pieces that are versatile, great quality, at a great value.

Their collection consists of closet staples: tees, skirts, shirts and dresses, in comfortable fabrics. The designs are modern, and the colours are your essentials with some fashion forward additions. Designs and colours are periodically added over time, and are driven out of demand, trend and function. You won't find throwaway, difficult to wear pieces here. Quite the opposite.

They uniquely offer a 'shop by shape' option, making it easier to purchase items based on your body type. I think this is such a fresh way to shop, and with Krystle's years of experience as a stylist, you can be confident you will be pointed in the right direction. Don't know if your body shape is an 'apple or a pear'? There is a quick questionnaire on their website: submit a few measurements and voila! Your suggested body type to help you shop. There are even some terrific styling tips to help you feel your best in your Lev pieces.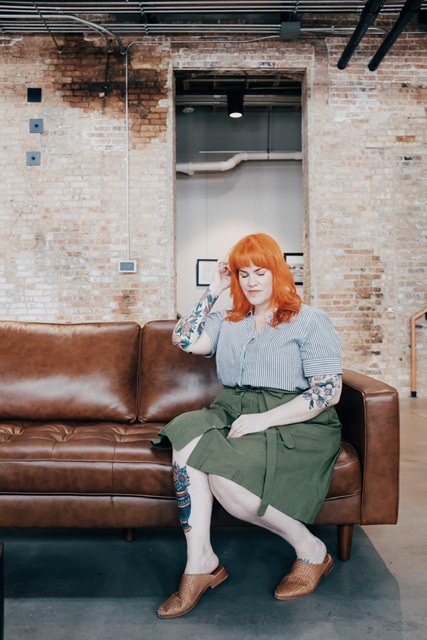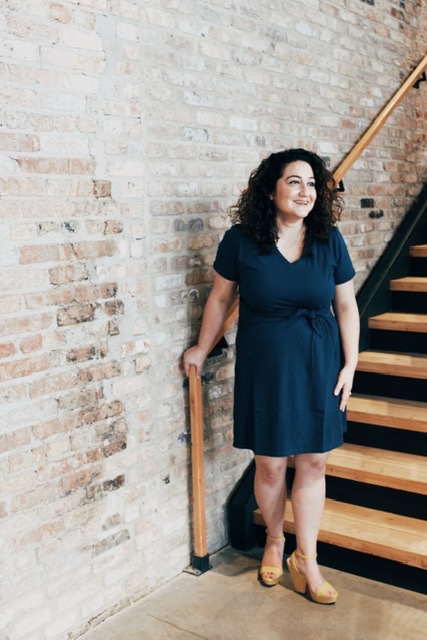 I ordered up a size because I wanted my pieces to be a little more tomboy slouchy.

I received my package very quickly and it was packaged beautifully with love and care. I was immediately drawn to their info cards, reminding me about where this product came from. I was also intrigued about the heavier weight of cotton, which was so soft to the touch.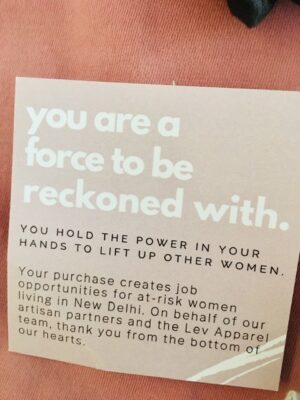 Lovely details, from seamed but rolled hem and sleeves. Perfect shoulders, and a drape that is great for all body types. They are beautifully made. I think I'm my next order I will order the crew neck tee and go down to a size Large for a more slim fit. I bought XL and I am perfectly comfy without looking sloppy. And the length on the XL is great so that I can wear untucked.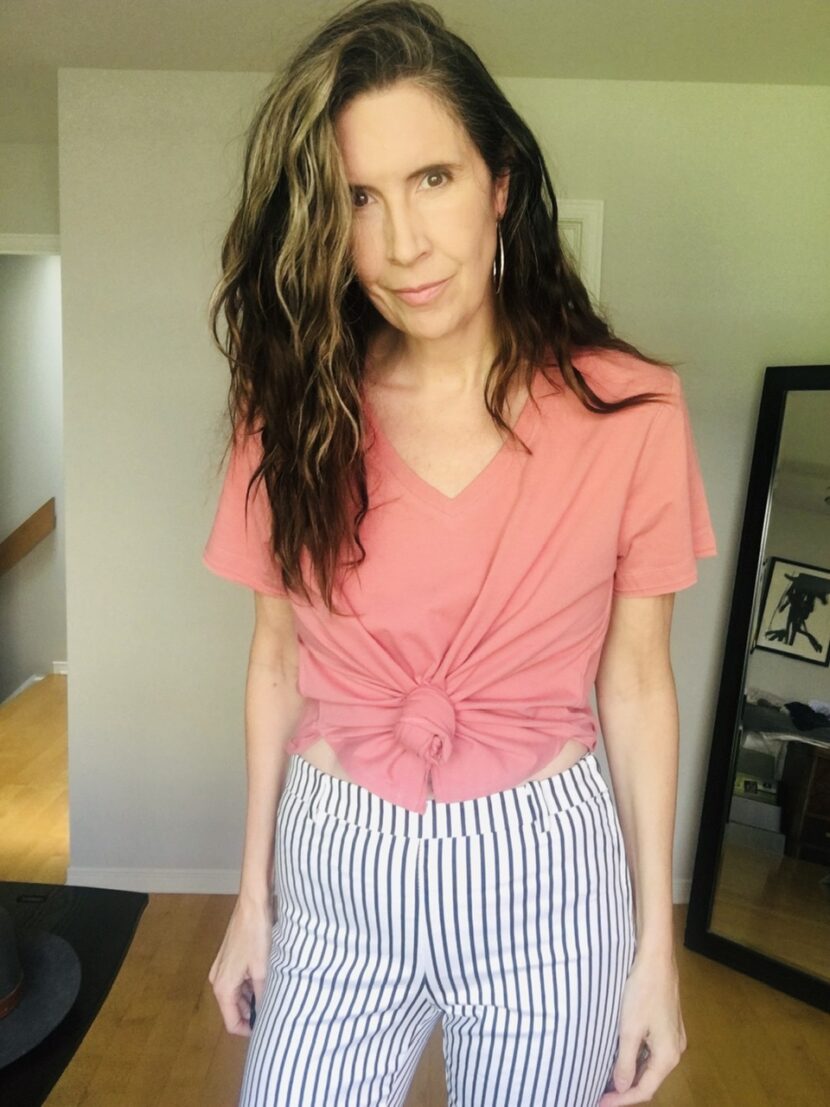 The price point is very reasonable, $38 (US) for a tee, shirts $68, and dresses $88.

They also have these terrific bundles to get you started. This is what I bought. I purchased the 'classic tee bundle: Melinda tees & scrunchie set – $73 (plus taxes and shipping).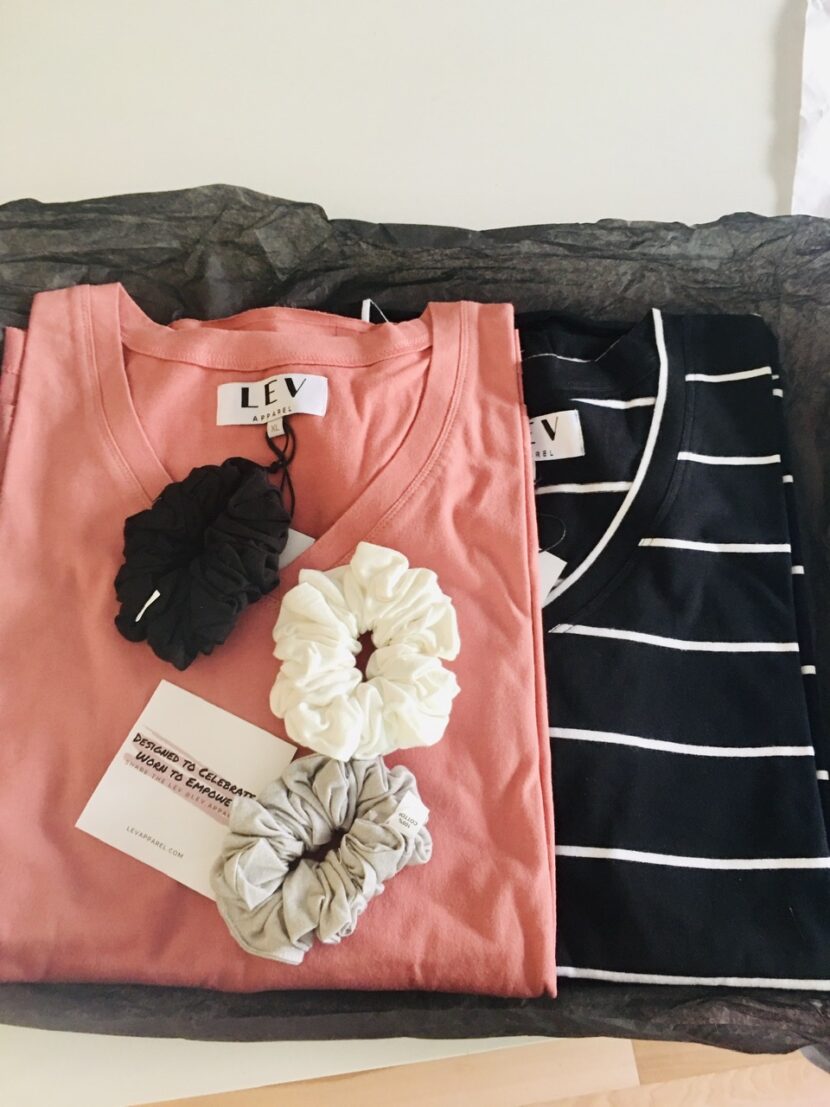 Yes, you read that correctly, they sell scrunchies! Singles for $6 and bundles of 3 for $21. (I am always looking for a scrunchy)

Their return & exchange policy is excellent, with 14 days returns & exchanges (extended to 21 days due to pandemic). Exchanges are free and easy to do with their re-usable shipping bag. pping rates are standard, and I didn't have to pay any customs/ duties fees getting shipped to Canada.
All items, including gift cards are available for purchase through their website here

If you are considering replenishing your wardrobe with some essential pieces, or just looking to add something new, I recommend Lev. You will be supporting a wonderful small business, supporting a great cause, a sustainable product and supporting the wonderful people who started this brand. Thanks! If you have any questions, feel free to ask me, or reach out to Krystle and Abby directly at hello@levapparel.com or check out their Instagram for some style inspo. Get on their email list for insiders scoop on sales, promotions and styling tips.
If you do plan on purchasing a piece, I would love to see how you are wearing it! I will have a few more of my own styling on my Instagram. xo Pamela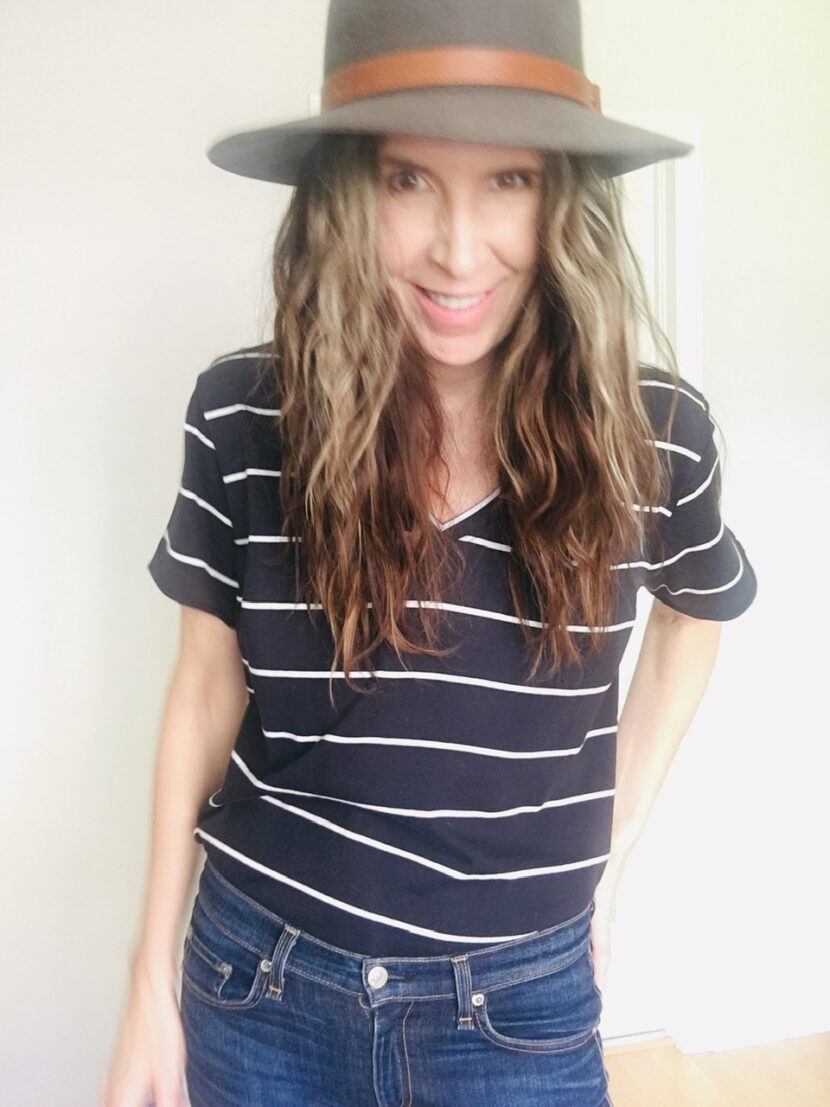 Related Posts