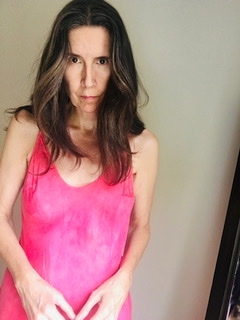 It has been 5 and a half years since I was first diagnosed with Breast Cancer. I wouldn't have even thought about it, but someone on my social media reminded me. Because of this reminder, and being that it is Breast Cancer Awareness Month, I thought I would give you an update as to where I am at with my case 5 years later. I thought that this would be a worthwhile post to give people early into their diagnosis a glimpse into the future, some insight for caretakers, as well as a general update to those of you who have been following my path.

The reminder takes me back to that time and to the fear that I felt upon first diagnosis in March 2015. It feels like a lifetime ago, honestly.

At the time it was a very big deal. It took over my (and Monty's) life and it sucked. It was a full time job pretty much for a year, then a part time job for a couple more years, and now somewhat of an annual checklist item at the doctors office.

5 years later CLINICALLY I am:
-Considered to be in a survivorship mode. Cancer free but still under the watch of an Oncologist
-I still take hormone suppressors (Tomaxafen), but very soon my Oncologist will be considering switching me to a new hormone drug (sigh)
-My general doctor manages my other care including my annual mammogram and ultrasound. I am given both due to the density of my breast tissue of my one breast (it is hard to see any unusual things with just a mammogram)

5 Years later, PHYSICALLY I am:
-Still with one boob 🙂
-Seriously though, I am pretty good physically although I really struggle with chronic pain. A couple of things that contribute to this: I received a mastectomy and node dissection of my left side back in 2015. Over the years, that body modification has led to significant tightness in my arm, armpit, shoulder and pec because of long scar tissue called cording. Also referred to as 'Axillary Web Syndrome'. It's a known side effect and it's known to be painful. The tightness of the scar tissue in turn has rolled my left shoulder inward and my scapula out. Combined with a nerve damage and swelling on my left chest and side torso (lymphatic fluid build up). It. Is. Miserable. I try to do my exercises and stretches daily and low dosage of pain medication as needed but it's rough. It throws off everything in my neck and back etc. To be fair, some of my pain is contributed by rigidity from having Parkinson's Disease too. It just kind of all piles on together.

Interesting, the last time I had a mammogram the doctor at The Ottawa Hospital Cancer Clinic told me that she was bringing to light this very combination of issues not uncommon to other breast cancer survivors, and things one can do immediately following any treatments to try to proactively improve upon this future scenario. I know the doctors at UW Cancer Centre were also doing much of the same, really paying attention to long term pain issues like mine as a result of the various treatments and surgeries we have to undergo to remove the cancer cells. This is very encouraging for new cancer patients and long term quality of life.

Also physically, the hormones have taken a bit of a toll on me. You can google and find out what unpleasant things they do as these things are a little bit personal, and for once I don't feel like sharing too much about it. Let me just say I would best describe it as drugs that take away a lot of stuff from you.

But on the bright side, 5 years later I am still here, I am cancer free (knock on wood) and still with a terrific sense of humour.

MENTALLY , 5 years later
I am still a little nutty, but I was before I was diagnosed 🙂
And seriously again though too, I would say the fear of cancer returning has diminished year after year. The only time I really get a little frightened is once a year around mammogram time.
The pain takes a mental toll on me sometimes too, but it's pretty well managed.
My modified body bothers me at times too, but I remind myself it was a fair trade-off.
If I could turn back time:
-I would have done more stretches and more exercises more often during treatment. Even if it only helped a tiny bit, I would have done more.
-I would not have gotten reconstructive surgery.
-I would have asked a lot more questions when I was first diagnosed.
-I wish I had joined a support group of some sort.
-I would have taken advantage of the psychologist the cancer center provided during and post treatment
I wish I could have continued the Stepping Stone Foundation I had started in Madison, WI: raising money to financially support people who were struggling with day to day expenses while undergoing treatment. I'm sure that need has not disappeared, in fact I am sure it has gotten worse. I closed that non profit as well as my small business when we decided to move to Canada in 2017. Sorry. I just couldn't carry this on remotely.

Speaking of Canada and the Canadian healthcare system; they have treated me exceptionally well. I have had no lapses or delays in care, and feel very confident in my level of care. I am very lucky. I wish more of my American friends knew that ' free healthcare for everyone' is not a bad thing, but, that is a whole other conversation.

Today though, I am pretty darn happy to have survived cancer, and to be chugging along in this crazy, weird time in all of our lives. I love my life with Monty & our two cats.

I am not a great spokesperson for Breast Cancer patients or survivors. I'm not entrenched in that world too actively to be able to speak to it. I can only share my personal experience and where I am today and hope that my experience shared helps someone. But I can say to those who are newly diagnosed with breast cancer, I know it is scary, it is. The best advice I can offer to you is to ask questions, educate yourself and advocate for yourself or have a proxy who can do so for you. And breathe and don't be afraid to ask for help.
And to my sister (and brother) survivors, high five to you, and feel free to complain to me anytime about those pesky chronic issues that remain behind, I understand. And for those of you who have cared for, or know someone with cancer, or are in my orbit, thanks for being awesome and caring. You all are amazing. And please vote. And wear a mask please. Breast Cancer patients undergoing treatment right now thank you. and I thank you! Xo Pamela
For more posts on my Breast Cancer experiences, check these out.
Related Posts