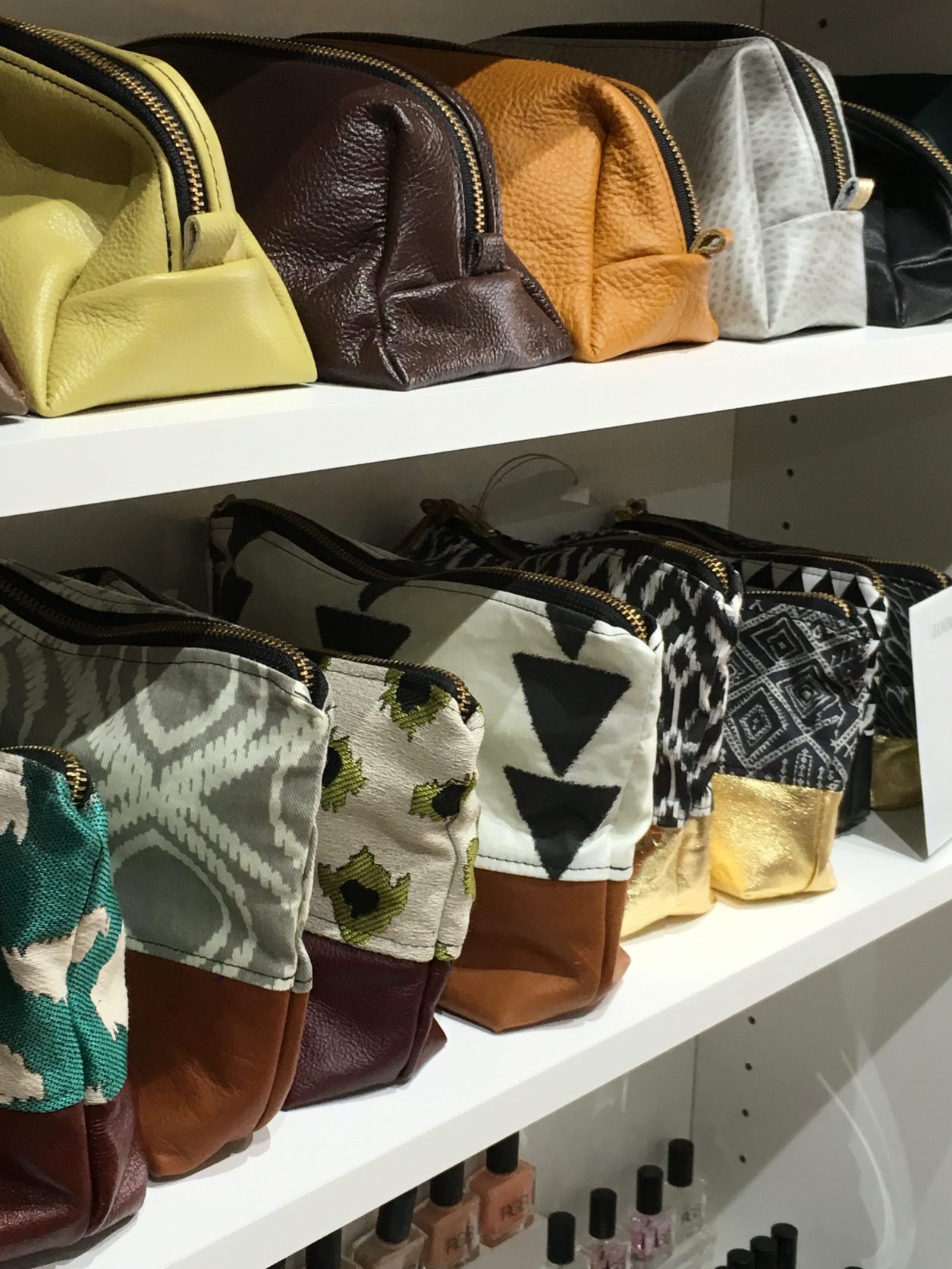 I decided to write a post featuring local businesses that I love as we enter into the holiday season. Hopefully this will inspire some Gift Ideas for you, as you tackle your gift list this holiday season.
Please consider these and other small businesses as you do your shopping. I know from experience it is so hard to compete with big online options, and the majors, so please, take a look at why I love these choices.
I have also learned it is a-ok to think about treating yourself too. Buy yourself a little something or take a break with a much deserved pampering service. I've listed out some great options here.
These are primarily Madison based, but I have included one fave LA Boutique. Several of these businesses have an e-commerce option. And if these don't work out for you, don't forget about that shop or business in your own city that would be so grateful for the business. I hope this inspires some ideas for you.
I feel like I have taken the guess-work out for my husband here too. Anyways…
Here are my faves
Arch Apothecary
What they do: Luxury beauty boutique; focus on brow & facial waxing, blowouts, and make-up applications
Why I love: I get my regular blowouts and brows done here by their incredibly talented (& friendly) staff, within a beautiful space. I also don't have to go to NYC or Chicago anymore to buy items from brands like NARS, Kevyn Aucoin, & Eve Lom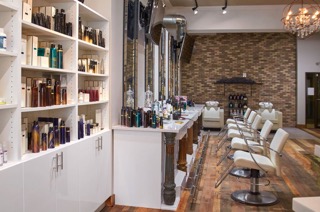 Signature product or service: the perfect brow
Holiday Gift Items/ Promotions:  Black Friday & Small Business Saturday deal (spend $50 & receive a FREE brow wax, spend $100 & receive a FREE blowout)!
Schedule an holiday make-up / hair appointment for parties & events
Tons of gift items, including items for Men and home in addition to skin & beauty items
Gift Cards also available
Fun Facts:  Say 'hi' to the Arch gals during lunch hour hanging out by the Melted food cart, picking up their sushi from Red or sitting on the benches by the capitol! This winter they will be focusing on getting  a second bridal kit in order for next season (this past year was crazy), creating spring window displays and limiting their trips to coffee shops to keep warm. As for 2016 they will be sponsoring their not-so horrible co-ed softball team *the Arch Angels* again in the summer and hoping to setup more collaboration events with local businesses.
On my wish list: a complete new makeup wardrode, including application lesson
Location: 23 S Pinckney St, Capitol Square, downtown Madison, WI (two other locations in Chicago & Rockford. IL)
Street Parking or Tenney Ramp at 142 East Main Street. For complete details, check out their parking blog post.
Website: Archapothecary.com
Holiday Hours:
Mona Moore
What they do:  Specialty Boutique selling the absolute best collections of shoes, bags & accessories in the country. The boutique is located in LA, with Online store for the rest of us.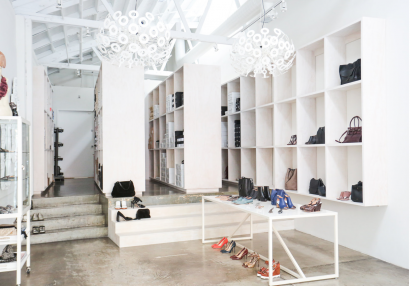 Photo Credit: Tessa Neustadt
Why I love: Quality & Style are paramount in their pieces. So yes to Chloe, Maison Margiela & The Row, but musts as well include Marsell,  Haider Ackermann, Ann Demuelemeester. The owners and staff are wonderful people too.
Signature product or service: Cool girl shoes
Holiday Gift Items/ Promotions: Perfect Gift ideas for the Holidays: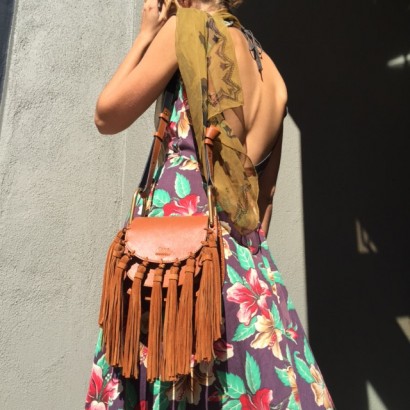 Chloe runway Hudson mini tasseled bags  (in Caramel & Black)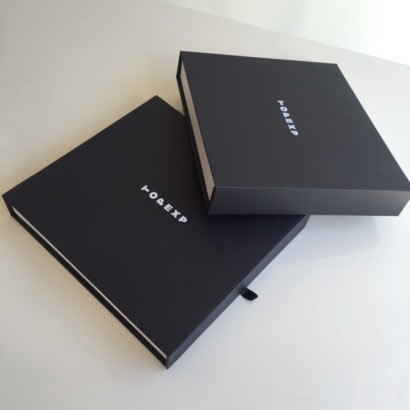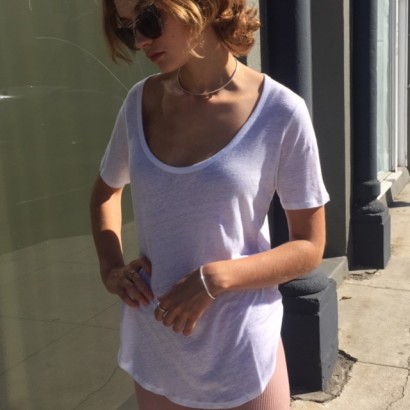 Top Expert set of 3 Tees (in scoop or crew, white or black) : 3 tees is varying sizes slim, regular and oversize
Complimentary 2 day delivery with all Purchases over $300
Fun Facts: love the Raquel Allegra lookbooks each season? You'll often see the models wearing shoes from Mona Moore. Also check out the their Mona Loves Blog, for style inspo, and where to dine/ must see spots across the globe
On my wish list:   Agnes Baddoo White Leather Cross Body Bag,  Filu Hats Courcheval Travel Hat in Camel,  Chloe Pink Tea Scalloped Ballet Flats.  Top Expert set of Scoop Neck tees in white,   Linda Farrow Luxe 391 Sunglasses ,  0.88 by Philipe Airaud 18k Gold Bracelet with hook closure
I could go on but I'll stop with those.
Location: 222 Main St, Venice Beach, CA 90291
Website: monamoore.com
La Lingerie
What they do: Speciality Boutique selling intimate apparel and swimwear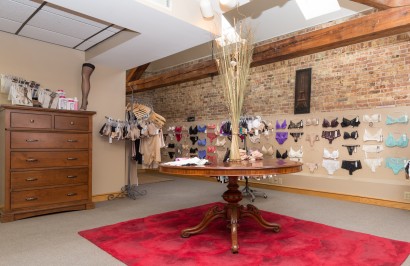 Why I love: You will be fitted properly for the first time in your life, and you will have a selection of beautiful brands to choose from like Simone Perele, Aubade, Chantelle, Wacoal, Gottex. I was a devoted client when I had two breasts, and now I have been treated so gently and sensitively after my mastectomy to find new bras and bathing suits.  If you live in the midwest, you must come visit La Lingerie.
Katherine, the owner's mission when opening over 5 years ago was to
A. Bring all sizes of quality lingerie to women.
B. Create a shopping experience that EMPOWERS women to love their bodies and feel beautiful in their own skin.
I'm totally down with this mission.
About Katherine:

"After living in France for a study abroad program and then working in Big Box American lingerie for 5 years, I opened La Lingerie in Madison to provide quality lingerie for all sizes. I knew too many women, including myself, that never fit into the few sizes that American shops carry. I founded La Lingerie in 2010 to give women in Wisconsin a place, a haven actually, for all women of all shapes and sizes, to find beautiful garments that fit."
Signature product or service: Bra & Swimsuit fittings by appointment. Private 1 on 1 fittings by an expert fitter to help all women, of all shapes and sizes, find beautiful and comfortable garments that fit. Sleep, Bridal & Boudoir also available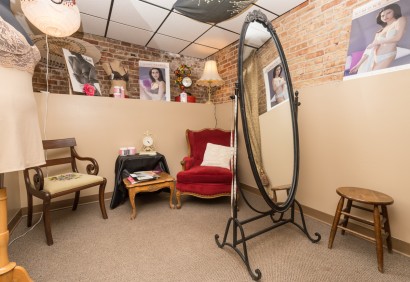 Holiday Gift Items/ Promotions: Thurs. Dec 3rd Slumber Party!: See their newest editions including PJs, Robes, Sleep Chemises, Boudoir sets and more!
Last minute Men's shopping night: Dec 16th 4-7pm (great idea)
Gift Certificates for a fit session & products! Just go ahead and book a fit session for your mom, sister, partner
Purchase a lingerie set and book session post Christmas. She will be able to get fitted to the items bought and swap them for the correct size/style if needed.
Fun Facts: From Katherine "Many of us fitters are obsessed with the "pointy" bra look from the 1950s. We have a few bras that have been around since the 1960s and many European styles that give us the great TORPEDO boobs that look AMAZING in sweaters. I personally cannot get enough of this shape! I just love it. Step aside push-up, round & balled boobies…make way for the pointy guns! But don't worry ladies…if the round look suits your fancy, we've got those too ;)"
On my wish list: Wacoal 'Embrace' Lace Bras, Natori Robe, Natori Cotton Panties, Hanky Panky boy-short Panties
Location: 640 W Washington Ave, Madison. La Lingerie is on W Washington in the Historic Train Depot building. They are behind the bike shop called Motorless Motions. Be aware that they are not on the street, please pull into the bike shop parking lot and you will see signs directing you toward La Lingerie. Free Parking spots reserved for clientele in our lot.
Website:    Lalingerieshop.com
Serene Beauty Face & Body
What they do:  Facials, Waxing, Reflexology
Why I love: Dana is a skin genius. She is constantly in education mode and it shows in results. My face glows after every visit. She takes the time to understand your skin needs at every visit. Once you are there, you are in an oasis of 'you' time.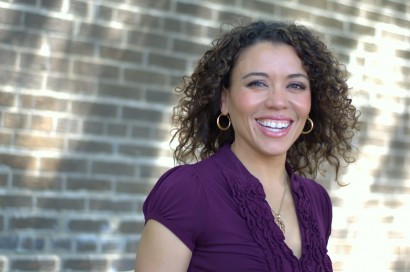 About Dana: Dana became an Esthetician in 1990. She loves esthetics and wanted to teach this amazing industry to others, so she received her license as a State of Wisconsin Instructor in 1994. Along with a variety of holistic training, such as aromatherapy & reflexology,  she also became highly trained as a Clinical Esthetician in 1998 to help patients understand and use their Prescription Strength Skin Care. She has performed Clinical Treatments and advised along side with Cosmetic Surgeons & Dermatologists.
Signature product or service: The Modern Miracle Facial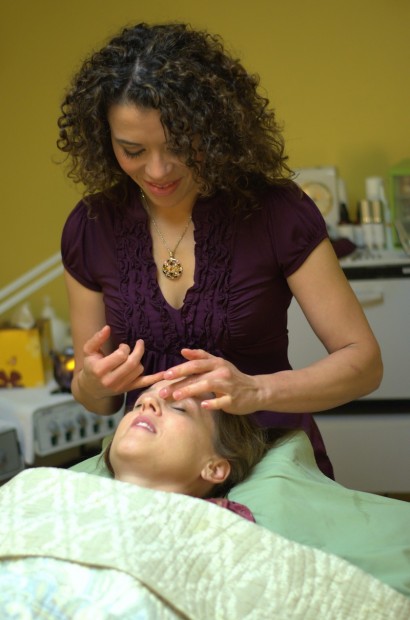 Holiday Gift Items/ Promotions: Purchase a $50 Gift Certificate, receive a $10 Gift Certificate for yourself!
Fun Facts: Dana loves to cook & bake (I have been the fortunate recipient). She also loves to cycle & run for local charities such as the Boys & Girls Club or Second Harvest Food Banks. Dana has a sweet kitty Miss Sadie Elizabeth, whom I would pet-sit anytime.
On my wish list: Pierre F lip-balm, Gift Cards!!!
Location: 5555 Odana Rd, Suite 209, Madison, WI 53719 Plenty of parking in the complex parking lot.
Website:     http://serenebeautyfb.com
Maggie Modena
What they do: Design & Sell backpacks, other bags & dog packs made with her own designed textiles
You might have met Maggie or seen her bag and backpack line 'Maggie Modena' at iona. She also owns two small dogs (a pug and french bulldog). Her two pups are her source of inspiration for her most recent endeavor on Kickstarter where she launched her new line of doggie harness backpacks.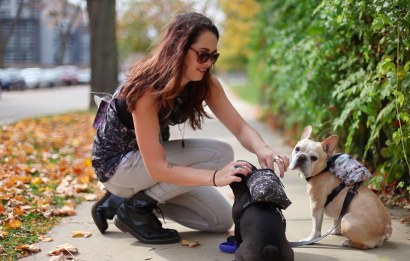 Why I love: My favorite backpack is from Maggie, and it carries everything. It's also a great carry-on. I receive compliments on it all the time. I love her brilliant idea of dog-packs. If I had a pup I would have multiples. Maggie has great gift levels with her Kickstarter campaign.
Signature product or service: Backpacks and other bags made of beautifully printed fabric. Harness backpack for dogs.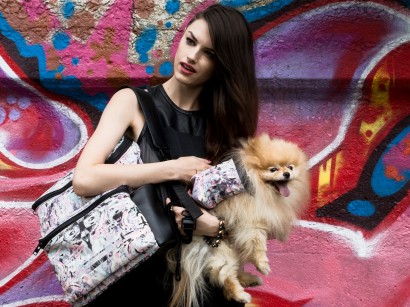 Holiday Gift Items/ Promotions: For Black Friday ONLY, dog backpacks will be $10 off.
On my wishlist: I'll be supporting her Kickstarter. I covet another backpack or cross-body bag in galaxy or pastel print
Fun Facts from Maggie:
Charity: "Since I rescued my dog Toad, we'll be partnering with Underdog Pet Rescue to encourage people to adopt dogs. They will be featured in our silly and cute dog calendar which is one of our Kickstarter rewards for $25."
Hobbies: DJing and sharing music, traveling and meeting new people, hula hooping, dancing whenever wherever, and manipulating photos in photoshop
"I'll be hitting the road in January in my RV with my husband and two pups".
Location: Available only through December 10th: maggiemodena.com/kickstarter
Website:  maggiemodena.com/kickstarter
Melt Studio
What they do: Personal Training & Group Exercise
Why I love: They are knowledgable practitioners and customize programs to your needs. I have worked closely with Mona Melms, owner, with my very specific health needs, and she has helped me so much.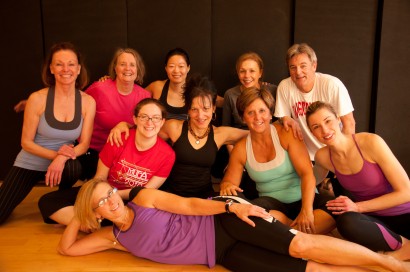 Signature product or service: Expert Personal Training, Foundation Classes & Yamura Ball Rolling Classes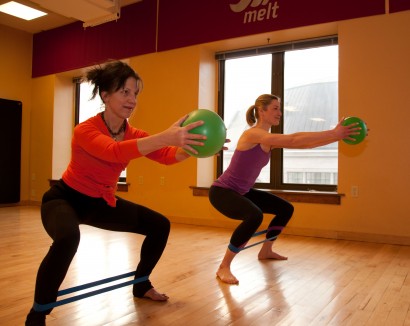 Holiday Gift Items/ Promotions: Gift Cards!
Fun Facts: Mona is a registered and active Nurse Practitioner. She is somewhat of a local celeb, often recruited for modeling & MC gigs. As a fellow breast cancer survivor, Mona finds joy in all that she does, and extends it to everyone she meets.
On my wish list: Gift Cards for classes & personal training sessions
Location: Melt personal training has relocated to One S. Pinckney Street, Suite 106 downtown Madison, WI in the US Bank Building. All group classes are now held at the Edgewater Hotel
Website:   Studiomelt.com
Hybrid Salon
What they do: Hair Cut & Color Experts, Nails, Make-up, lashes, spray tans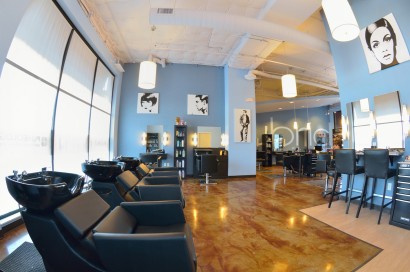 Why I love: They know how to cut long hair. They also stay current on latest techniques & styles. In fact the owner, Tony Santini is opening a cosmetology school very soon. They have the most comfortable hair wash stations ever. They also make sure you have the knowledge and tools for your own at-home care. Your comfort is key, relax with a beverage while getting pampered.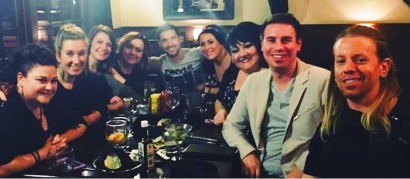 Signature product or service: Creative & modern hair cuts
Holiday Gift Items/ Promotions: 20% off Gift Cards! Tons of Holiday Gift Sets as well.
Check out their open house on Dec 5th, tons of specials and promotions (and fun)
Fun Facts: See if you can identify all the celebrity mural paintings on the walls. You will also want to keep hanging out and listen to the great tunes playing.
On my wish list: Redken Extreme Length Sealer, Redken Diamond Oil
Location: 555 S Midvale, #117 Madison, WI  in the Sequyoa Commons plaza, in the Westmorland and Midvale Heights neighborhood (just up the street from Hilldale). Plenty of parking in the plaza lot.
Website:    Hybridsalon.com 
Charity more your thing this Holiday Season? Here are a few that Monty & I support:
GBS / CIDP Foundation: Guillain Barre Foundation provide awareness and research for this rare neurological disease I have
UW Health Carbone Cancer Center
Agrace: Hospice & Palliative Care
One Woman Many Lakes: raising awareness & research funds specifically for terminal Stage IV breast cancer
Pamela's Fashion Allowance Fund: Just Kidding. Just checking to see if you read this far. Although feel free 🙂
I didn't list out all of the social media links for everyone above, due to the size of this post. You can find them yourselves via their respective websites, You can find phone numbers on websites too.
Happy Shopping & Happy Holidays! Hope to see some of you around town this holiday season. Let me know if you try out any of my suggestions! xo Pamela
Related Posts