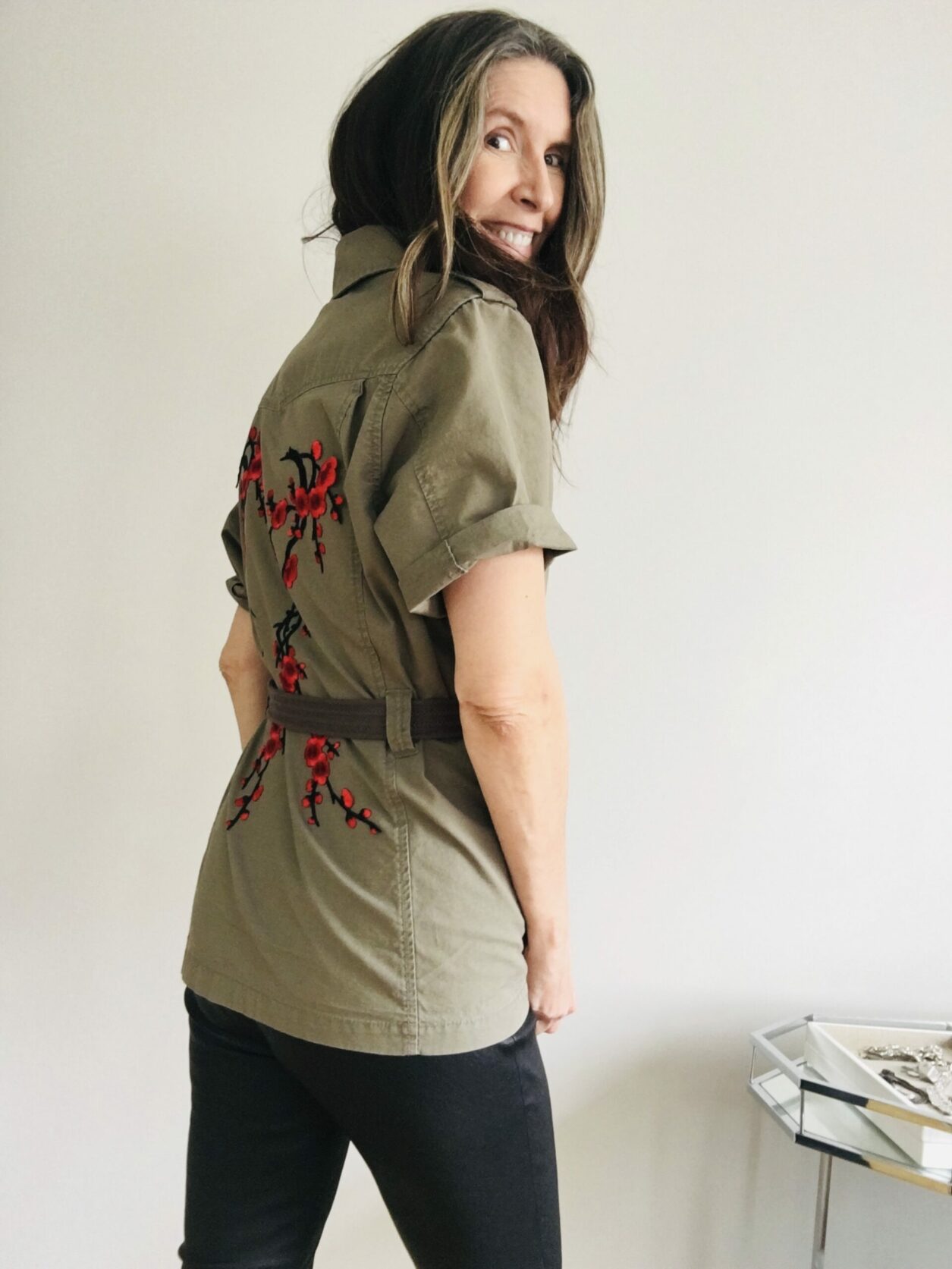 From frumpy to pretty damn pretty for under $20

I have been keeping my eye out for a green cargo jacket. I wanted just a lightweight, dark green, easy to wear layering piece.

I found this jacket at the thrift store for $3. It was okay, fairly pre-loved and missing the belt. But I liked the length and I liked the pockets. So I bought it figuring I could do something with it.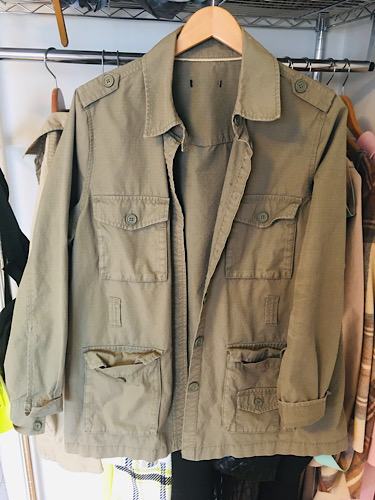 I wanted to add some colour or art. I thought about painting it, but 1. My fine art skills are meh…I haven't created in years. No, decades. And 2. I don't have any paint supplies so I came up with something else.

I decided to look for some interesting patches. I may have even googled 'cool iron on patches' to look for some. Important note here. I do not have a sewing machine (yet). So all of my DIY's for the moment have to keep that in mind.

The jacket was a little ill fitting as well, the sleeves wee a bit too short, and it lacked shape.

Step 1: Wash & Steam

I needed to get my clean slate and smooth everything out to see what I was working with

Step 2: Change Sleeve Length

I decided to make this into a short sleeve jacket. This would solve the awkward length problem, and it would open up the options to showcase jewelry , and to layer with interesting long sleeve tops.

I cut both sleeves, rolled the hem and pressed them with an iron. I like the casual look to it.

Step 3: Iron on the patches

I decided on these long floral patches. The red looks super cool with the army green, and the size of them make them the highlight of the jacket.

I found them on Amazon for $13

I positioned them a little lower, because I wanted them to be visible even if my long hair is being worn down.

Ironed on, and presto!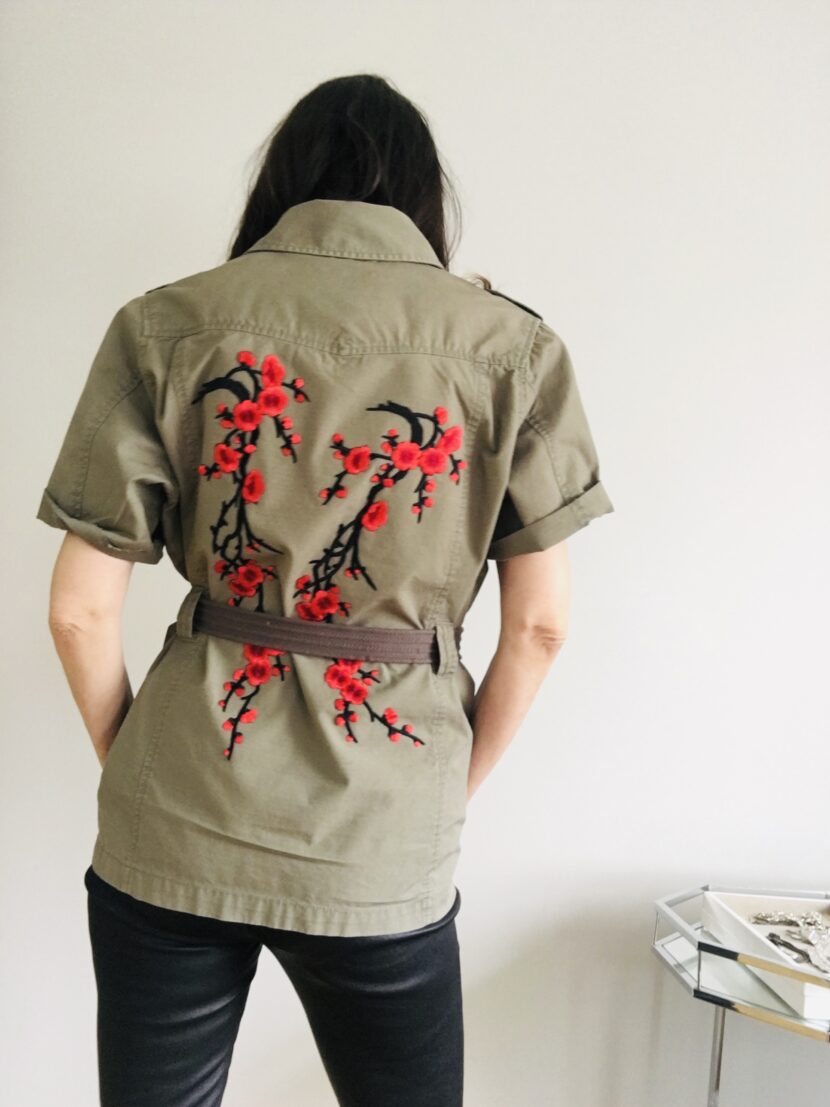 Step 4: Belt it

This needs a belt if I am going to wear it buttoned up. I bought this green belt for $2 at the thrift store as well. It's easy and can be worn open or closed with the belt.I also have tried it with a thick black leather belt which looks good for more night-time wear. That is if we ever get to go out in the evening again 🙁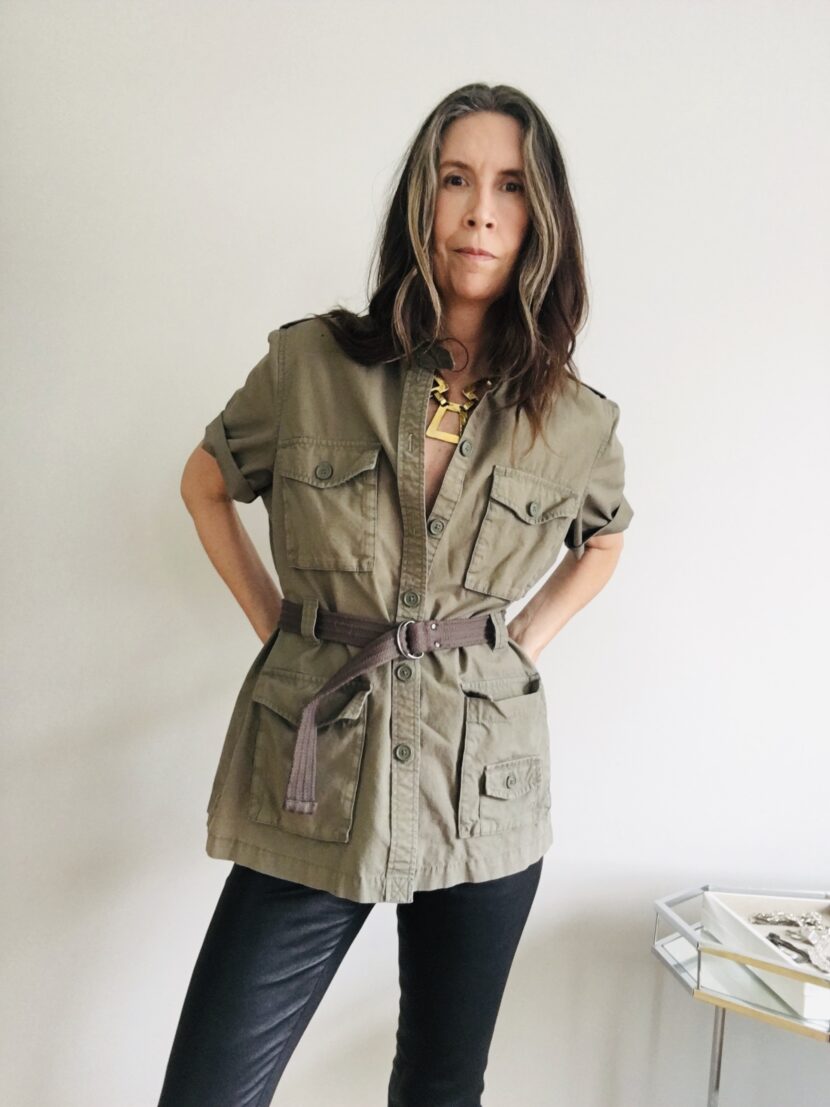 Step 5: Wear it

It's a great everyday throw on piece. I can wear it with my Covid isolation loungewear, and it makes going to the end of the driveway a little less embarrassing in case anyone sees me. The pockets are nice and big. I often find myself picking up and dropping off 'stuff' from floor to floor of my house so these pockets are handy. And they easily hold my iPhone.
That's it! Anyone can do it. 

DIY Level: easy, basic!

Project Cost: (in CDN $)
Jacket: $3
Belt: $2
Patches: $13

Total Cost: $18 , so like $12 US
Related Posts