It's March and spring styles are just hitting the store, but fall 2015/16 runway shows are going on too? The fashion timeline/schedule is confusing so let's shed some light on it.
I remember when I first began learning about the fashion timeline in school. I remember thinking to myself, 'Yeah, I'm not going to remember that.' As a designer, there is yet another layer of confusion. When you're showing your latest line, you're actually designing for the next season at the same time. So in this case, not only are the Spring/Summer 2015 styles on the floor, and Fall/Winter 2015/16 Styles being shown in showrooms and runways, but designers are planning for Spring/Summer 2016!
But anyway, forgetting about that additional layer of confusion, here's a sort of When Should I Shop? Fashion Delivery Schedule/Timeline: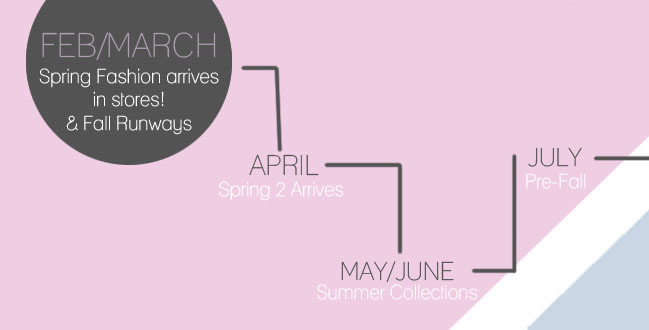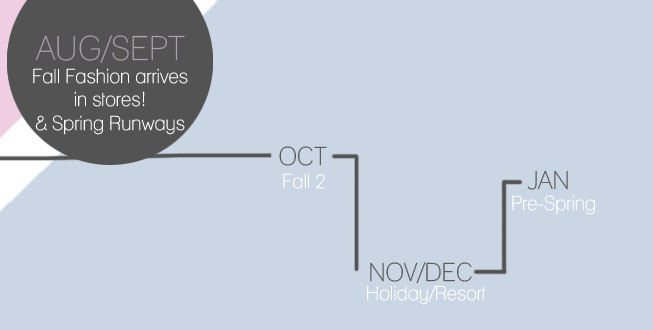 January
Pre-Spring. These styles are typically warmer fabrics with a spring feeling.
February/March
Spring fashion arrives! This is when the bulk of spring shipments arrives. Spring is the second biggest season for shopping. Not only are these spring pieces, but they are transitional from winter to spring. At the same time, Fall Runway Shows are occurring in NYC, London, Milan and Paris for the next season.
April
Spring 2 arrives. This will be more transitional from spring to summer.
May/June
Summer Collections in store.
July
Pre-Fall arrives. Before the bulk of fall collections, these pieces will transition us from summer to fall styles.
August/September
The biggest season in fashion – Fall! Jackets, fur, leather, and oh so much more. Don't we all love fall fashion?! Not to mention, in August iona will be celebrating its 2 year anniversary!
October
Fall 2. Second fall delivery which includes slightly warmer styles to prep us for the winter months.
November/December
Holiday, Celebrate! And Resort wear for those lucky people traveling somewhere warm for the holidays. This time of year, there are lots of specialty items and more jewelry, perfect for gifts. Resort wear includes suits, and light, beach-y items.
So, even though we aren't thinking about pastels and florals quite yet (being in Wisconsin in February and all), spring collections are here! Just in time to give us hope and nice weather to look forward to. Plus it'll be hitting 50 degrees in Madison this week. Woohoo!
Still confused? Drop a comment below or send me an email: maggie@ishopiona.com
xxMaggie
Related Posts