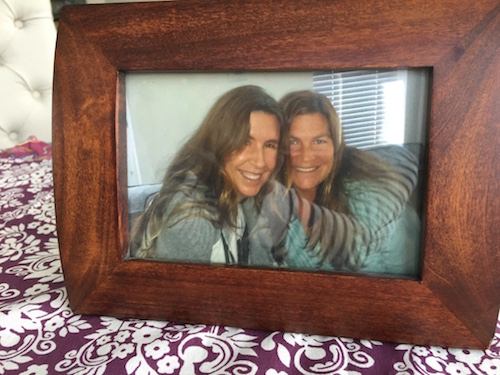 A couple of weeks ago, I traveled down to Charlotte, N.C to visit my girlfriend Sue. She had just relocated there with her husband and two teenage kids after many years of living in Atlanta. I wanted to see how she was settling into her new home and community and spend time with her just hanging out and catching up.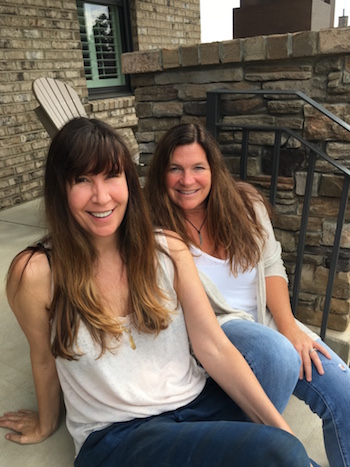 Charlotte N.C. September 2016
I have known Sue since we were 14 year old High School Sophomores in Skaneateles, NY. I had just moved there from the Toronto area, and was a punk rocker (actually I was a  New-Ro if you know what that means growing up in the 80's). I was young and scared moving to a preppy, affluent small town in another country in upstate NY.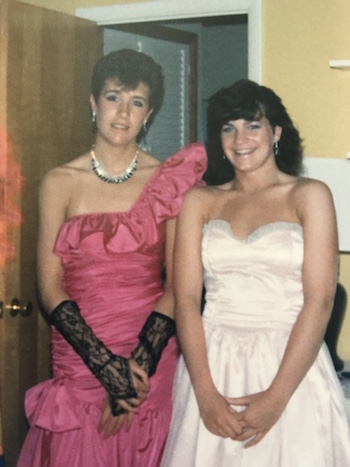 Junior Prom 1985
Sue and my other friend Holly were quick to adopt me as a friend and navigated me through the challenging waters of high school. Eventually my high school years were fondly memorable, and I am so thankful to have Sue and Holly by my side. Holly literally held my hand that first day there, and they both introduced me to lots of friends. We all got along with everyone.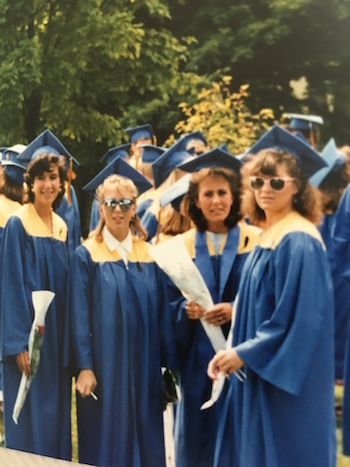 High School Graduation 1986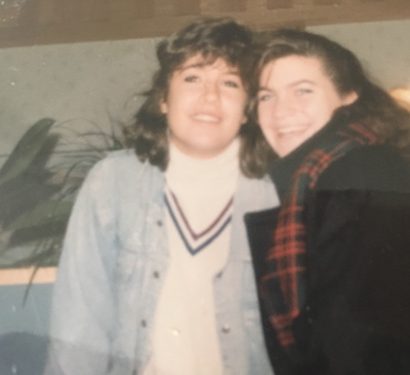 College 1988
While we all kept in touch, luck, effort and circumstance kept Sue & I connecting on a regular basis. Beyond high school, and our first loves, the tears, and the fashion, we graduated and went our separate ways through college. Me, attending University back in Canada, and Sue heading down to school in Virginia. Through our first jobs, and slew of bad choices in men, we stayed in touch at a distance. I was still in Canada, and Sue was living in Atlanta with our other good high school friend Leigh. Sue met her husband there, and at her wedding in Savannah I met and fell in love with one of their friends. At the dumb and courageous age of 27 I packed up my car and my cat, and moved down to Atlanta in 1997.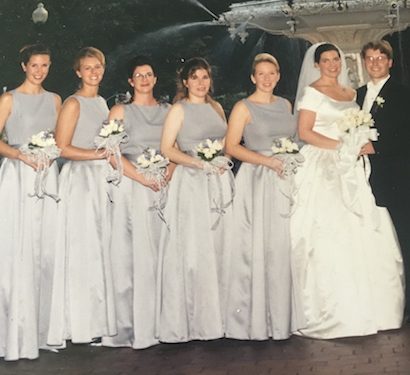 Sue & Ridr's Wedding 1996
From there we reconnected like the old days; fashion, work, parties. Events eventually evolved to brunches, showers and barbecues as our lives evolved. Sue's family grew with dogs and kids. My heart was broken but my career continued to grow. That career took me away from Atlanta, and I ended up moving to several different cities including Chicago, Jacksonville Beach, Pittsburgh and Charlotte.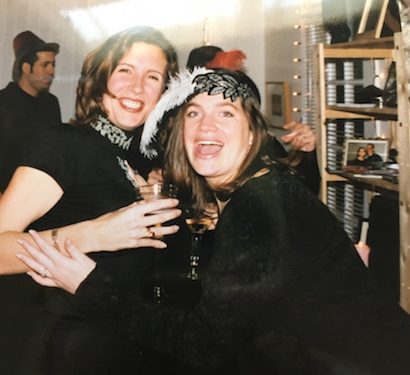 Best New Year's Eve Party Ever, 1999
I ended up moving to Madison in 2008. I fell in love with my now husband Monty and still share my deep connection and friendship with Sue. Now we face issues concerning aging parents, death and health. We share concern and excitement for her children's future. We talk about our projects, politics and our retirement, but we still love fashion, and a good laugh like our young teenage selves. Sue came to Madison from Atlanta a couple weeks after my mastectomy in 2015 to cheer me up and to give Monty a break. I am forever grateful.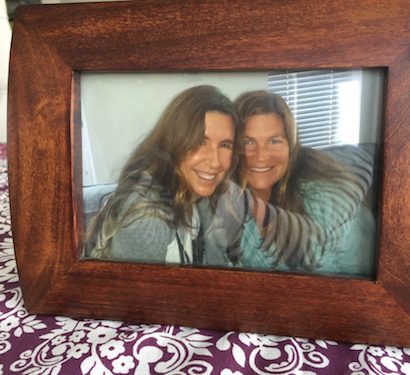 After my mastectomy, May 2015
It was and always is such an easy transition when we see each other again, whether it has been 5 years or 1 year. I wanted to explore what Sue thought about that and our friendship, so we grabbed some tea (eventually we switched to wine), and talked about it. Here's what we said:
Pdub: Why, as young girls do you think we became friends in the first place?
Sue:  Well, I had just moved to Skaneateles not long before you, so I knew it was a tough entry. You seemed like an interesting person and different from everyone else.
Pdub: My haircut back then confirms that.
Sue: We had some hair back then. Well, come to find out we had similar taste in music, and both loved fashion.
Pdub: Why do you think the friendship grew from there?
Sue: You (and Holly) always had a sincere way of making people feel great about themselves, and you made me feel good about myself. A basis of trust was formed and I think that was the foundation. Trust.
Pdub: That's a nice thing to say, and I agree on the trust concept. You had my back in high school, and always made me feel inclusive. While I was definitely an individualist, I was a bit shy. You helped me with that and with the people who were asshats to me.
Sue:  Yeah there were plenty of those. I never liked to be the center of attention, but I always wanted to make people laugh.
Pdub: I was cool hangin' back too, and I also wanted to make sure others were happy. We both found joy in our things, our bond, and making sure others were smiling. We still do that.
Sue: We do
Pdub: Why do you think our friendship has lasted?
Sue: You and my other friend (Elyse) are like sisters to me; again it's the bond and the trust
Pdub: I agree. I can't believe we've been friends for 33 years. I can't believe we're in our late 40's, it's crazy how time flies.Do you regret some of the blocks of time we didn't cultivate our friendship more?
Sue: I think situations took us in different places, but we always circled back
Pdub: I wish I made more of an effort at some phases in our lives. I think I missed out. But yeah, situations. For me, my career, or some relationship kept me so busy. You learn really quickly after a health scare how stupid that was.
So have you lost other friends or broken up with friends over the years?
Sue; Not really. More like some of my friendships faded. Usually due to geography, or our interests and values change. 
Pdub: The same applies to me. I've found I've made more of a conscious decision not to spread myself too thin. With my health issues I have to be so careful where I share my time. I don't think my newer friends really understand what it takes for me to just meet up for a lunch. It's a day of energy, maybe two. And that means I can't spend time with my husband, my cat, work out,  do work. So I'm really trying to be extra careful where I share my time. But that doesn't mean I don't want new friends, I love some of the great gals I've met here in Madison. You?
Sue: Yeah I've met some great gals here in Charlotte too. Same thing though, taking my time and being careful.
Pdub: The secret to our long term success?
Ridr: (Sue's husband jumps in) Not judging.
Sue: Yeah that's true. And trust, and support.
Pdub: Yes, and love and respect. And a great sense of humor. We're so funny.
Sue: I know.
Pdub: Where do you see our friendship going over the next 30 years?
Sue: More of this, and watching my kids grow. I'd like a lot more travel together. Let's go visit Holly soon in Vermont! And I'd love to go to Vegas with you and watch you play poker, I'll play slots!
Pdub: Let's plan it. Anything else?
Sue: A lot more wine, and a lot more inappropriate jokes only we get.
Pdub: And menopause, incontinence and aches and pains.
Sue: Ha, yep that too
Pdub: I love you Sue. I am already looking forward to hanging out again. By the way, your kids are fantastic. Testament to you and Ridr as great parents.
Sue: Ah thanks, Love you too Pam.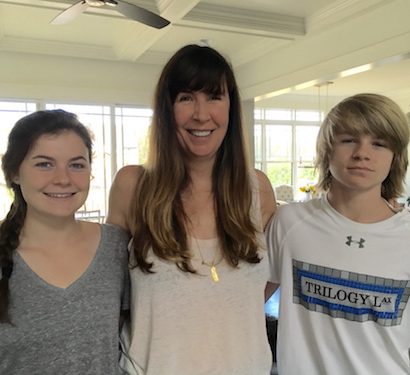 Sue's kids in Charlotte, Sept 2016
Related Posts