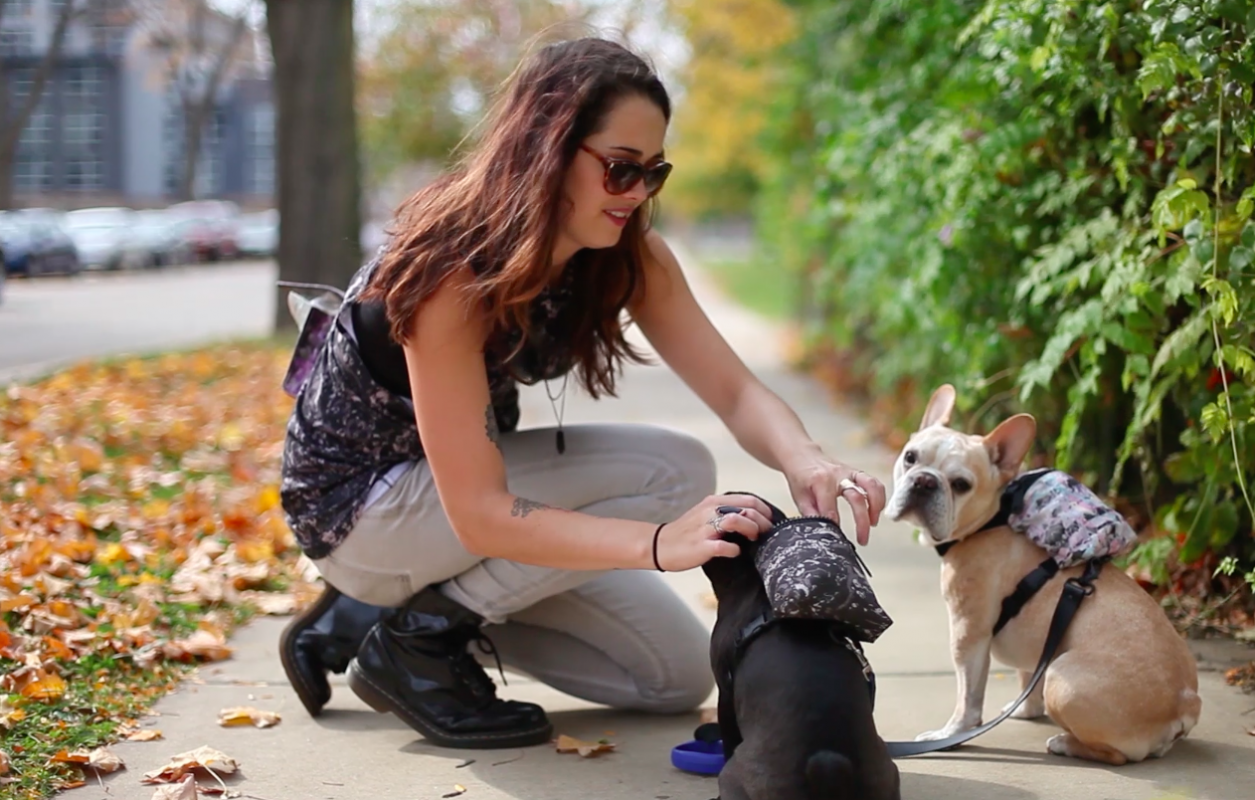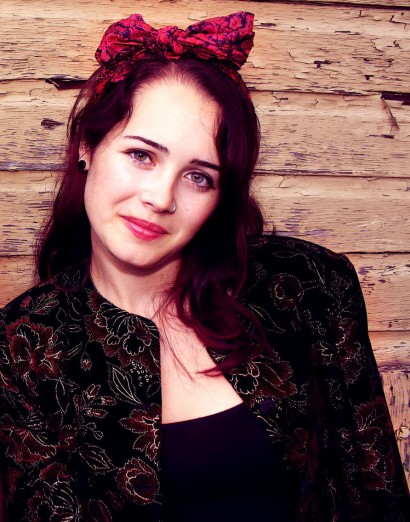 Maggie will be launching her first line of handbags and backpacks exclusively at iona. To kick it off, next week we'll be hosting a Valentine's Day Trunk Show. More info here.
By merging handbags with art, Maggie Modena has created more than just a well-made, functional bag, but rather, a wearable art piece. If handbags are an extension of your personality and mood, then Modena is living without a filter. Being loud is liberating and that is exactly what Modena handbags are meant to be. Season by season, Maggie collaborates with artists in various mediums for freshly inspired prints. Each print is exclusive to the brand and produced in limited quantities.
What three words would best describe the style of Maggie Modena?
Bold and adventurous, yet utilitarian.
This first collection includes three different styles of bags. Could you tell us a bit about each of the styles?
I've always loved backpacks so I had to include a 'Classic Backpack'. I think there's a common misconception that backpacks are only for high school and college age kids, but they're just too convenient not to be in everyone's closet! I frequently say that your hands have better things to do than to hold a bag. I love blending the utilitarian qualities of backpacks with vibrant textiles. It's perfect for commuting and traveling as the backpack has many pockets, including a spot for your laptop. I added the laptop slot because I'm always in such a rush and frequently forget my laptop case.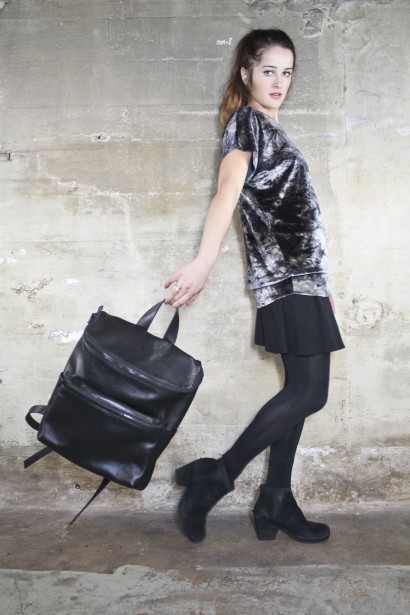 I have a soft spot for convertible bags so of course I've included one in my collection: the mini backpack/crossbody. Mini backpacks have been a big trend the last couple seasons. I love the size as it's great for going out and quick errands. If you aren't partial to backpacks, then wear it as a crossbody!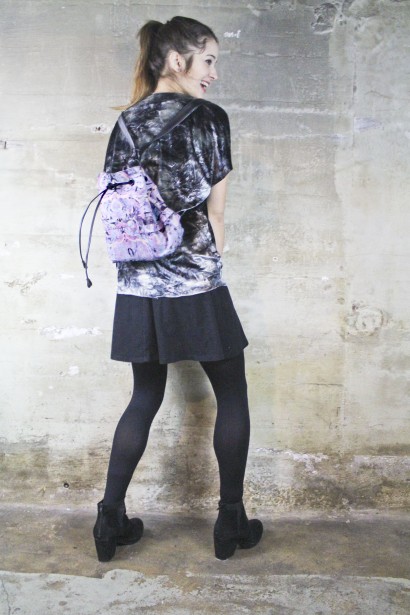 This last style I've been thinking about for years! I love using small bags, but hate having to transfer everything from my wallet every time. This style solves that problem. You can use it as a wallet, wear it on your waist as a belt bag or carry it as a wristlet. It also fits into the other two handbags in the collection. I love dancing so it's perfect for a dance party or going to see a live show.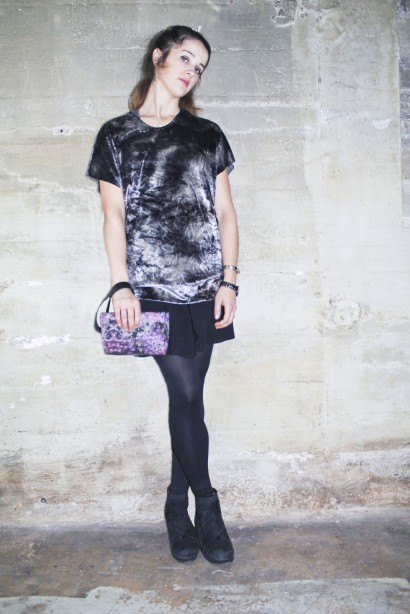 All of the textiles are unique to the brand. Could you tell us how you came up with them?
For this season, I've designed most of the prints myself. I like to work with mixed mediums including painting, drawing and photos which I manipulate and arrange in photoshop. I also plan on collaborating with artists in various mediums for upcoming seasons to bring in freshly inspired prints. For the fall collection, I collaborated with my husband, Corey, who studied fine arts, to make the the Graffiti print.
Why Handbags?
The functionality of bags has always drawn me in. I love dreaming up patterns for new designs and visualizing not only the design, but how it functions.
What was the inspiration behind this collection?
My inspirations have most to do with color. I am always collecting color, texture, and shapes that interest me to filter through later to form a new board. This season was inspired by the dead of winter. Although Wisconsin winters are pretty miserable, it carries a lot of beauty. The collection's colors were centered around a photo I took at a friend's farm at sunrise. All of the bare tree silhouettes in the pastel array of color was perfect.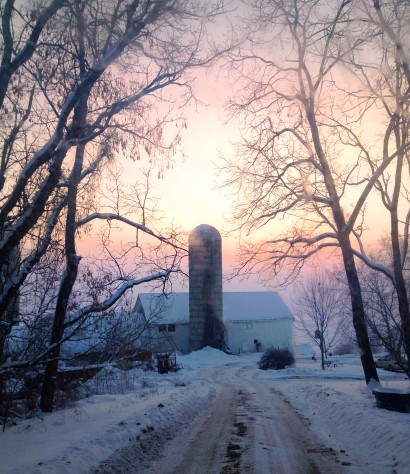 Your bags are made in Milwaukee. Can you tell us a bit about that?
I met the most wonderful couple that sews various projects in their basement studio. It's great to support such kind people and to have the bags made close by. I knew it was the right fit when I received a hug on the exit of our first meeting. The leather is actually also made in Milwaukee.
Why did you decide to start your business in Madison?
Madison has a lot going on for a city of its size: local eats, live music, dive bars galore, the most beautiful summers around, makerspace Sector67, delicious coffee shops (JPH is my fave!), and smart, forward thinking people. Madison does a great job in supporting local and sustainable art and has a great entrepreneurial scene. On top of all that, it's easy and affordable!
Have You Always Known That You Wanted to be a Designer?
Although I didn't ever really know that I wanted to be in design, I knew I wanted to be creative. Being innately introverted from a very young age, I was always a thinker who expressed myself through creative means: drawing, sewing doll clothes, choreographing dance moves (and making my friends learn them too) and making ridiculous videos (mostly of the music variety as I was obsessed with MTV). Wanting to use that creativity in my profession, eventually, I landed on design.
Aside from your handbag line, what's another goal of yours?
I have so many things I'd love to do! I love travel and have so many dream trips to take: London, the Northwest (Seattle, Portland, Redwoods, Vancouver & Shambala Music Fest), New Orleans and I could go on forever. Aside from that, a general goal of mine is to become unapologetically weirder as I get older, mostly to counteract being shy. I've already become incredibly less shy as a result of this goal.
What's something someone wouldn't know about you?
I've been hula hooping for 6 years.
Favorite Style icon/idol?
Growing up my idols were always women musicians. I loved the irreverent, independent women who think outside the box: Joan Jett, Grace Slick & Shirley Manson were some of many.
Related Posts