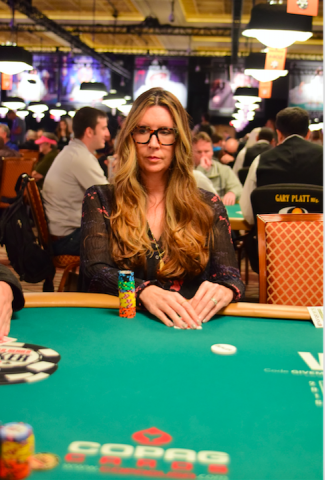 Answer: They are both helping me become a better person. Bear with me, this does all connect, and I would like to explain how.
First of all, Monty and I headed down to Vegas with friends in early July to play a number of World Series of Poker Events, including the $10,000 buy in Main Event. I had been working on my game on and off the table, so I was feeling pretty confident and excited to face the 7,000 players from all over the world expected to play the main event.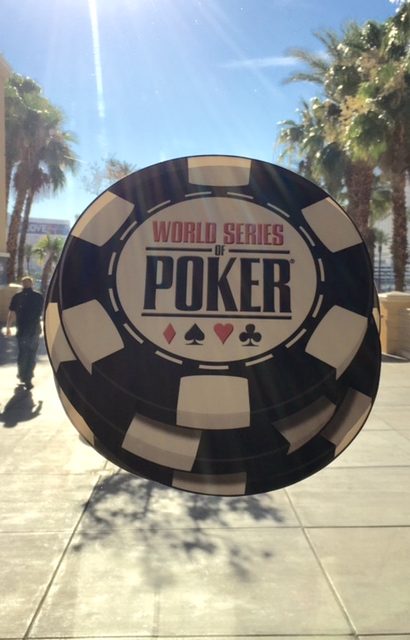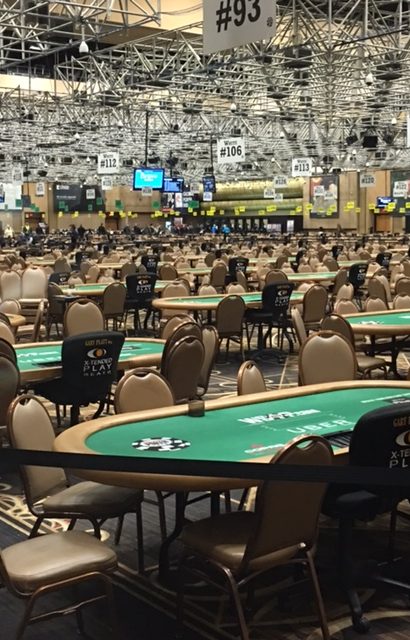 just one of the many impressive poker rooms at the WSOP
Once I sat down at the tables I had to quickly adjust to the varying styles of play; some much more effective than others. The goal of tournament poker is to amass chips until there is a last (wo)man standing, knocking out other players along the way. The effective players were successful at both amassing chips and knocking out players.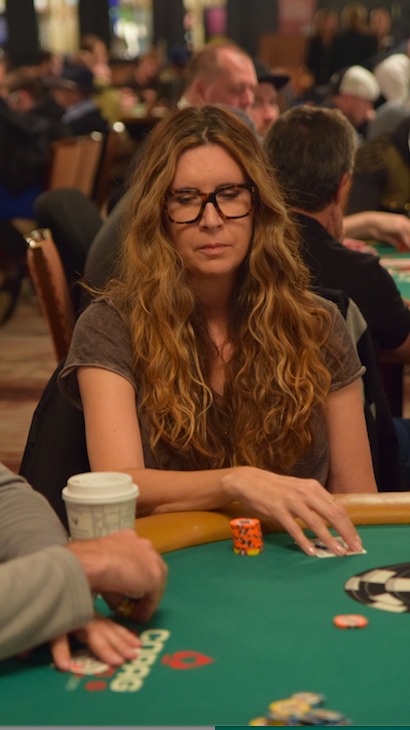 Day 2 WSOP Main Event
My game was moderately successful in that I won a couple of very small tournaments, but only made it through day 2 of the main event? What was I doing wrong?
One of the things I realized after I was knocked out, is that I tend to gravitate towards pro's teaching videos who share a similar style of play as me. This gave me validation that what I was doing must be right and a false sense that I'm a good player because they play the same way.  What I should have been doing this past year is study pros who have styles very different than mine. Not only would it take me out of my comfort zone, but it would make me think about the game from a completely different perspective, and then I could apply what I learned and adapt it to my game.
Here's the important part that got me thinking on the way home. If I have a willingness, and eagerness to do this to improve my poker game, then perhaps I should be challenging myself more to learn about other things and people from a different perspective as well. I should try something different on the menu, and look at art that I find uncomfortable to view. I would like to ask other people what they love about fashion. I would like to understand why some people are so angry. Or sad, or happy. I would like to understand different political perspectives.
As I was turning this over and over in my brain when I arrived home from Vegas, my body was screaming at me for some TLC. I met up with my masseuse friend Jacque the other day for a massage and as I was getting settled into those early minutes I realized that the background music wasn't the usual new-age synth type. Instead she had on one of my favorite albums, 'Knuckle Down' by singer-songwriter Ani DiFranco. I hadn't heard this in years. I was so happy to hear one of my favorite artists. renowned for her brilliant, poetic, raw and often very political lyrics. What particularly caught my attention were the lines:
"Teach myself to see each of us
Through the lens of forgiveness
Like we're stuck with each other (god forbid!)"
I felt like that is exactly what I am thinking right now. With all of the pain, fear, hate and violence that is happening seemingly everywhere, I feel like I need to take a step back and not react, but build some understanding and deliver a different way to respond, react and act. As Ani says in her song "Paradigm":
Teach myself to be new in an instant
Like the truth is accessible at any time
Teach myself it's never really one or the other
There's a paradox in every paradigm
So yeah, poker got me thinking, Ani got me thinking, and I sure hope the lessons help me continue to develop as a person. While I realized I may not be in the top % of winning poker players, I am in the top % of players willing to self-evaluate and learn. Despite my poker losses, and despite the awful world events, I am motivated to learn, improve my poker game, affect change, and build community.
Mark, my pro poker friend, gave me some great advice the other day too. He said "I think it's great you are going to try these new things in your poker game, but remember to not try to be something entirely different than who you are as a person and as a player. Those foundations have made you successful already, just build on that."
I think that kind of sums it up. Imagine if we all tried to open our minds and actions more? I think it would be "…the feeling of community brewing, Of democracy happening." (to hear 'Paradigm' you can find on Ani's Knuckle Down album from her Righteous Babe web store.)
Final note. I will be back next year Vegas, look the hell out! xoxo Pdub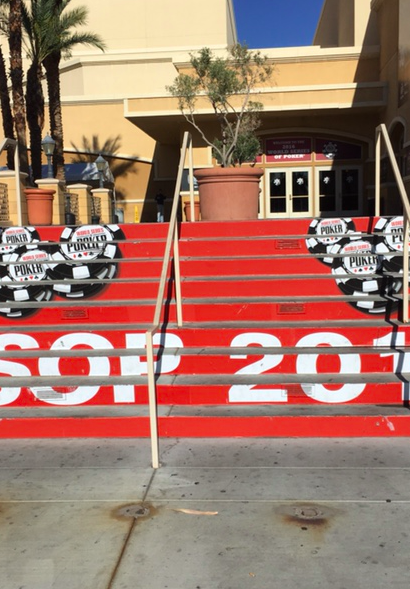 Related Posts