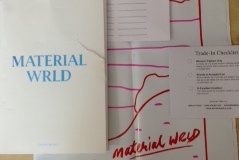 I have too many clothes. I have clothes that I don't love or don't fit me anymore. I want to simplify my wardrobe to pieces that I love and will wear often, including my special occasion and seasonal pieces.
I decided last month to clean out my closet.
My first pass of clean out I pulled out 38 pieces total of clothing, 2 purses, 1 pair of boots, and 1 pair of shoes for sale. I also pulled out about another 30 pieces for donation.
I decided to outright sell them though. I have tried other alternatives, some successfully, like Local Consignment shops (Barry Chic Boutique in Madison, review coming soon), and online ebay auction like eDrop off. However I decided that I wanted a quick and easy turnaround, and some consistency with buyout amount.
I did a lot of research, and one of the most positively mentioned and reviewed is Material Wrld. Their concept is to buy new or gently used clothing, from a specific list of designers,  in exchange for a gift card from places like Shopbop, Barney's New York and Neiman Marcus, My assumption is that they then resale the clothes elsewhere for their margin.
Started by two friends Rie & Jie, who both went to Harvard Business School, and had careers in fashion e-commerce in NYC. They decided to start this business to solve a problem; how to recycle your closet in a fun and socially conscious way. You can read more about them here.
My overall experience is that Material Wrld is excellent. They exceeded my expectations with service. I was happy, not ecstatic, but happy with the purchase exchange. It was easy like they said, it was fast, it was fun, and I'm excited to buy the one or two pieces that I will love and wear now.
Here's the step by step:
9/15:  requested trade in kit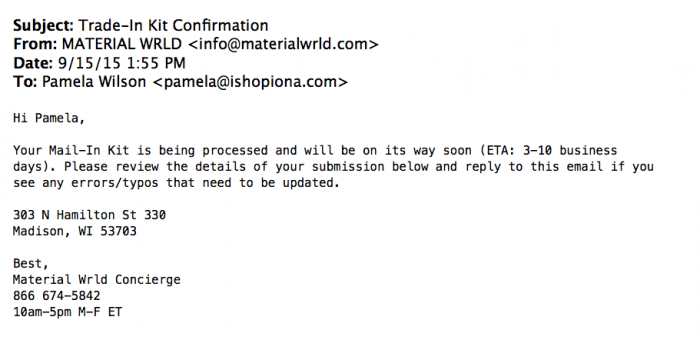 9/17:  I received my mail in kit which included a bag, pre-paid shipping label, a list of accepted brands, and instructions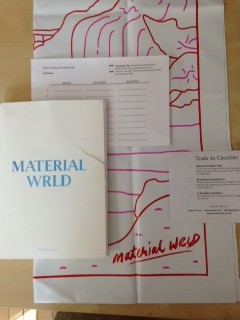 9/18:  dropped off my *cough* 40 pound box at UPS using my pre-paid shipping label.
9/23 they sent me an email letting me know they received my package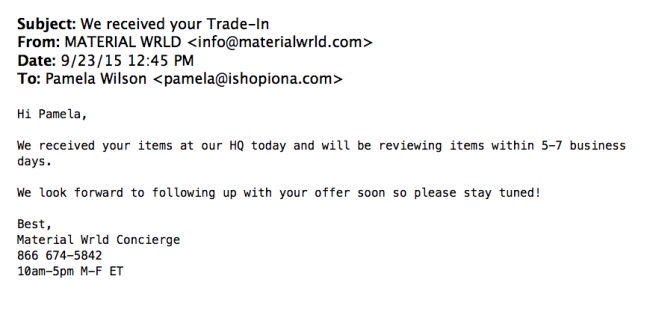 9/29 A few days later they let me know they were working on my items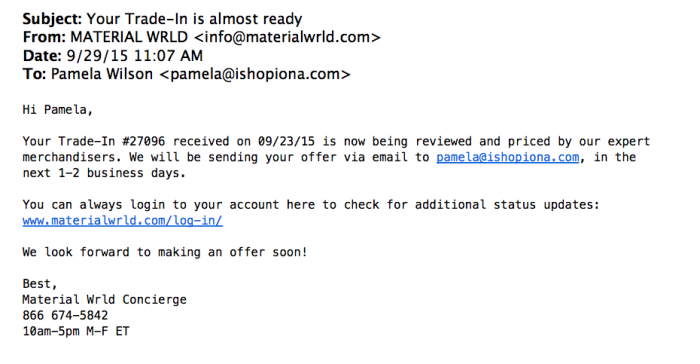 10/2:  They sent me an email letting me know they worked up an offer for me to review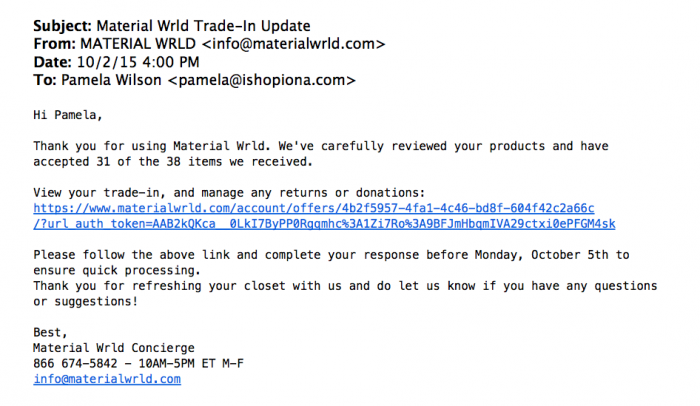 10/2 I went to the link to review the amount for each item, and accepted offer. I agreed to donate the 7 pieces they did not accept.
10/2 They sent me a confirmation email, saying I would receive my gift card in about a week
10/9 I received gift card in the mail. I spent it the same day, I knew exactly what I wanted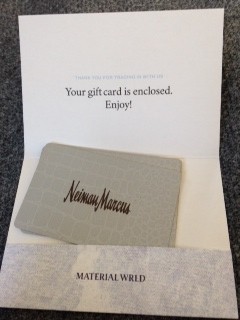 Of my 38 items, valued originally at retail $13.065, they accepted 31 of them, and offered me $1,500. Approximately 12% of my original retail. They offered me a slightly higher % for shoes and bags (all with original dust covers and boxes).
I never wore these things or was done with the items that I sold, so I was very happy to buy that Chloe cashmere dress I wanted from my fall picks, a cashmere turtleneck and a few Chanel make-up pieces, all from Neiman Marcus. I should be receiving those this week. (I'll post pics)
Could I have made more $$ selling myself on ebay? I say maybe. I had tried this previously and had no interest in the items. I also have zero interest in taking all the product photos, promoting, and shipping merchandise. Material Wrld just let me be done with it: send in my items and move on.
I would recommend Material Wrld. I am also taking a second pass at my wardrobe to use them again.
Want to try Material Wrld yourself? Receive a $25 bonus just by entering this promo code PAMELAW391 , or follow this link https://www.materialwrld.com/invite/PAMELAW391/
It feels soooo gooood to have a cleaned out, manageable closet. And I can't wait for my new pieces. xo Pdub
Related Posts