Come watch me (OneDub1) play, on live stream, every Tuesday on Twitch at 9e/ 8c.  Tune into channel PMonTwitch. 

Most Tuesdays I'll be playing, but you can also watch some other outstanding pro's: D1rtyR1v3r, RBeckwith, B1gSh00ter, P0kerH0 and 'FossilMan' Greg Raymer (2004 World Series Main Event Winner, and 2012 Heartland Poker Tour Player of the Year). Each player has their own unique style, and believe me we all make mistakes too or make  incorrect 'reads'.
Watching other players is a great way to learn, and it's fun to watch. I hope to see you on the rail tomorrow, I need a positive cheering section!
You are more than welcome to play as well. Pokermania is one of the sites I play online, and is the site of the Tuesday Twitch event.  There's a nightly 'freeroll' too, so you can start playing for free and build your bankroll.
There is Ladies only Tournament every Sunday evening at 9e/ 8c as well. It's a great, supportive environment for you to play with other women, try your skills and win some money. I will be playing those as often as I can.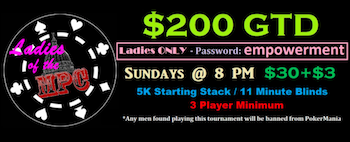 To students who have attended my classes, get back to basics and start with your 'Opening Hand Charts' 
Pokermania is a fun, recreational online site running daily tournaments and lots of ring games. If you would like to be set up with an account, think about your screen name, and shoot me an email at pamela@pdubxo.com
I know that dozens, if not hundreds of my readers either play or want to play poker. It's not always easy to get started or find the time or extra money to play. I get it. I am a big believer that poker can be a fun recreational sport that teaches us to be analytical,  learn basic math, apply constant situational analysis, and hopefully win money. It's a game where you can never learn it all, but you're always learning. It has brought me a ton of joy, (and frustration), and it's how I earn my income. But most of all I love the strategy, endurance and fun of tournament poker. See you at the tables, or on my twitch rail wishing me luck! I need it against these great guys and great players. Pamela
Related Posts