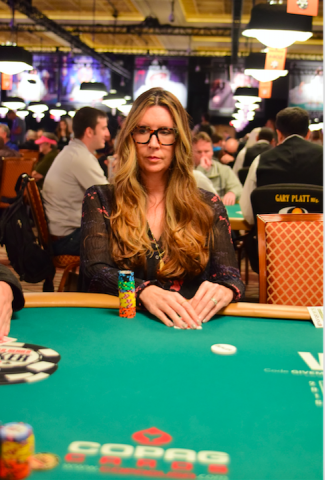 This is a story about opening up your hearts and minds. It's a true story. And it's also a story about poker, and life. My life in particular. 
What do you do when you have had a particularly bad day? How do you cope with it? And what would you do if one day you woke up and suddenly you couldn't do 75% of the things that you love to do? It happened to me in 2009, and you probably aren't going to believe this but poker is the one thing since then that has kept me sane, motivated and happy. Seems like a silly statement right? But it's very true. If you are one of those people who scoff at poker as 'gambling', I want to challenge your opinion. And for those of you who play poker and make fun of the players who aren't playing perfect GTO1 poker all of the time, I'm here to tell you there's more to the game than that too.
I am a 49 year old woman, living in Ottawa, ON Canada with my husband Monty and my cat Misty. I am a dual citizen and moved back to my home country of Canada in 2017. We moved because I have health issues, a lot of them, and we wanted to make sure we could enjoy our lives without fear of lack of medical care. The weird thing is prior to 2009, I was incredibly healthy. I have been a lifelong athlete. I was a competitive swimmer growing up, and I was in yoga teacher training in 2009 when my life changed overnight.
A few weeks before in October 2009 I had been struggling with a flu, and when I woke up that fateful morning of November 9th , 2009 I couldn't feel my face or my hands or my feet. I thought it was strange and drove myself to urgent care (stupid). Long story short a few days later I ended up with partial paralysis which was eventually diagnosed as a rare paralyzing disorder called Guillain Barre Syndrome. It's not something you catch, rather it's triggered by some traumatic event leaving your own immune system attacking your nervous system, and in my case it was the flu that triggered this. So for a few years I found myself between hospitalizations or at home, on my own, unable to walk, and very frustrated and scared.
Through the help of Monty and others I learned how to play online tournament poker. They thought it would be something that would keep me entertained and something to do during those long frustrating days of recovery. My husband (friend at the time) knew I loved card games and that I was very competitive, so he figured it might be a good fit. He was right. The constant decision making with the ever changing variables kept my mind busy and challenged. And it was fun. I loved it. I even participated in a bankroll challenge and spun up $200 to $17,000 in one month. I was hooked. The recovery of GBS was extremely slow and frustrating over several years, even leaving me with residual symptoms to this very day. But during those years of recovery, poker, specifically online poker was my treatment, my therapy, my entertainment and my community.
I was forced to retire from my tech career back then due to my residual symptoms like extreme fatigue and numbness. But a year or so after that I decided to follow my life-long passion of being in the fashion industry and opened a boutique in 2013. I thought I could build it, get it running and work there part-time in keeping with my physical capabilities. That was a stupid idea. The shop took over my life, and was more work than even a full time tech career. Anyhow at that time Monty and I were also playing live poker tournaments recreationally here and there and were able to travel to some fun spots with friends. But in early 2015 just as my boutique was hitting it's stride, I felt a lump in my breast and was shocked to be diagnosed with stage 2A invasive breast cancer. This means the cancer had spread to my lymph nodes, so it was a very scary time wondering what was going to happen to me. The cancer was completely unrelated to the GBS, and it was, as we say in poker, a 'bad beat'2. I had to close my boutique and focus on my treatment, and through many long days of recovery from surgeries and treatments I found myself at home in bed. Online poker was illegal in the US at that point, so I spent a lot of time watching poker coaching videos and tournaments on TV. (I also watched the entire 'Buffy the Vampire' series, but that's besides the point. It was just really good) The game (of poker)had changed quite a lot since the days when I was spinning up $200 bankrolls, and I hadn't been paying much attention to adjusting my game. But I was fascinated. So once again poker, particularly studying poker, became a huge distraction for me during another crisis time in my life.
For all of 2015 I was undergoing cancer treatments and surgeries. I hadn't gotten out much at all, but after my last day of radiation in September, I wanted to celebrate by playing a poker tournament. Monty and I played a regional tournament called the PPC Poker Tour3. It was a $330 buy in event, played over the course of 2 days. I won it!
I won it!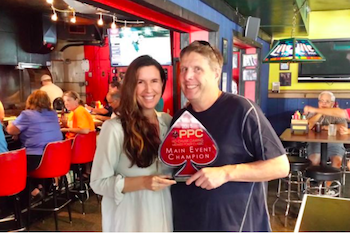 It was one of the greatest feelings I've ever had in my life, and after such a rough few years the victory was even sweeter. I bested a field of 334 players and won $18,000 and a $5,000 poker package trip to Aruba. I was exhausted and in pain during the two days of playing, but I was exhilarated after the win. That feeling will stay with me for the rest of my life. I know it's not life-changing money, but given the circumstances, the win was enormous to me. Our friend Chad Holloway wrote this wonderful story about my victory in Poker News and I received so much love and support from the entire poker community, including players from all over the world whom I had never met. I had players, especially women players tell me what an inspiration I was to them and that I gave them courage to get out there and play more. Wow, I was so proud.
About 18 months later in early 2017 Monty, Misty & I made the move to Canada and I began playing poker online again (it's legal here) and also at our local casino Lac Leamy. Again I was playing recreationally, but I was a serious enthusiast about the game. We were just getting settled into our new community, and meeting some new friends in the poker community when more strange things started happening to me. I had a persistent and worsening tremor on my left side that I assumed was just from the GBS and maybe nerve damage from my mastectomy. But I was also having problems moving my feet forward, one foot in front of the other, at times. It was like I was getting stuck in my tracks. My doctor did not discount it as symptoms from my other issues, she thought it was something different, and something related to my central nervous system. Unfortunately she was correct.
In February of this year, I was officially diagnosed with Stage 2 Parkinson's Disease. Another bad beat. It's like my opponent hitting their one outer on the river, but ten times in a row4. I couldn't believe it. I had just been diagnosed with yet another rare disease and one that was completely unrelated to cancer and also unrelated to GBS. And let me remind you, I'm only 49 which by Parkinson's standards is very young. I just couldn't believe it. Parkinson's is a degenerative brain disease with no cure, and manifests in various physical and mental ways like difficulty walking and not being able to focus. This one is for life, this one isn't going away, and this one is only going to get worse. I feel it getting worse. It's difficult for me to do simple everyday tasks and it's hard for me to even focus on reading a book. But I can still play online poker! The decisions are constant and they are quick as you play each hand. So even though a tournament may take 6 hours, I can still work through all of the hand by hand decisions quite capably while working my way through the field. I also believe that my brain is tapping into the muscle memory of the thousands of hands I've played over the years where I just kind of instinctually 'know' or 'feel' what the right decision is to make.
Depression and anxiety also affects most Parkinson's patients, and I am aware that I struggle with that at times too. I'm not suggesting poker is a cure, but it almost puts me into a meditative zone and helps get me through rough days.
I struggle more & more with my physical symptoms. It's tough for me to get around and I struggle with tremors and pain. Poker is one of the few things that I can still do where my physical limitations don't have too much of an affect on my ability to play. I love playing. It's something that Monty and I share as a hobby and we love to discuss how we played our hands and things to try differently in our games. We also love to get out to the casino to play their tournaments and just have some fun.
Yes, poker drives me crazy with frustration at times too. I'm not immune to bad luck or bad decisions, but that's part of the game: to try to minimize your risk and losses by making good decisions along the way to win. Poker encourages me to think about situations in abstract ways as there is no absolute one decision in any situation. This way of thinking has extended into everything I do in life and with people that I meet.
My days of playing 3-5 day tournaments are quickly coming to an end. This makes me sad, and shortens my window of my life goal of winning a 6 figure tournament. I really believe that I can do it. If I don't it's ok, I get so much fulfillment from playing and from the friendship of players that I know, and the new players that I meet. But… I'm going to try very hard to do it!
Let me close with my messages from all of this storytelling. For those who already play poker, try to open your minds a bit about the other players at the table. For some of us it took two days of rest just to get to the table. Try to remember that we all have different motivations and intentions for playing, and just because they may not be the same as yours, we should simply be respectful of each other. What we do or say can have an impact on the experience of the other players at the table. And no I'm not always a perfect player, I get frustrated at times too at the table, but I generally try to be gracious and kind with my wins and my losses.
For those of you who don't play, if someone tells you they are a poker player, don't be so quick to judge them as just a gambler. For many of us this sport brings us more than just the chance to win lots of money. It teaches me something new every day.
For all of us, let us simply work on not being so quick to judge people, not just at the poker tables but in every day life situations. Better yet, let's all work on being more compassionate towards people. We all are dealing with something.
And finally I will forever be an advocate of the sport of Poker. It is a complex brain sport which improves my quality of life daily and I truly believe will extend my life. And you, thank you for reading this. I hope you got something out of the 5 minutes you just spent here.  xo Pamela (Pdub)
P.S There are plenty of other things that give me joy and purpose each day: my best friend my husband, my cat, family, a sense of responsibility to improve the lives of others, nature, music, friends, animal videos, seeing people doing things they love, Bravo, & living room dance parties. But the hero of this story is poker.
Related Posts