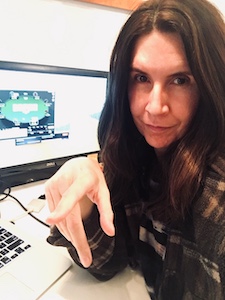 Here we go! Poker > Parkinsons 2019
The Lessons here for everyone: set the appropriate intention, take care of your body & mind, do the work, and make good decisions
If you're an eager poker player and just want to get to the facts, jump ahead to 2. If you want to be a more introspective human being AND a better poker player, start here:
1. WHY?
What is it that I'm really trying to do here? I've thought about this quite a lot, including before I sent out my 'launch' email on December 19th. I dug deep to make sure this wasn't a vanity project, or some small part of me looking for validation or attention. That would be shitty. That's not my motivation.
Create a Vision for Others to Join
That's more like it. That's what I want to do . I heard this on The Knowledge Project podcast interview with Adam Robinson, and it stuck with me. He shares powerful lessons on winning the game of life and the secrets to happiness which include:
Connecting with others
Joy:  in what we do, and in helping others
The Moment: living it
Look we all have the same fate, and in a way I have this weird gift knowing I won't be able to do things in a few years like I can today, so I better get at it right? Do it now, connect, joyfully in the moment and…
Create a Vision for others to Join… yeah that's what I'm going to do.
2. WHAT
My goal is to raise $5,000 next year for the Parkinson's Research Consortium (or PRC) playing tournament poker. Doesn't sound like a lot does it? It is a lot harder than you may realize. I have figured I need to gross $40,000 online and $60,000 live tournaments winnings. Less buy ins, travel expenses and other poker related expenses, I'm hoping to net $50,000 of my $100,000 winnings.

It's a big goal because I'm going to be doing it the old fashioned way by building my bankroll and only playing events I can afford (more on this in my next post). And let's face it. It's also a big goal because poker requires volume, and there's variance and there are so many good players now, that's it's just not that easy to win.
It's also a big goal for me because my good days and bad days are highly unpredictable which can affect whether I play or not. Last month I went out to play a tournament and when I arrived at the casino my pain was at a higher level than usual, I had a low grade headache and just didn't feel great. I decided not to play the tournament since I knew I wouldn't be able to play my best game.
If I can even play half of the schedule I have set out for myself I will be super happy.
My wins along the way will also be used as makeup for my losses and bankrolling buy ins for future events. So it's not as simple as 'I win $10,000, therefore $1,000 towards PRC'. It will be a year end accounting and I'm going to do my best.
This isn't the entire picture either because I'm going to be playing a lot more satellites online for live events which won't be accounted for as online 'cashes'. I'll also likely be playing cash poker a few times a month to try to round out the variance a bit and build my bankroll.
I prefer to play live tournaments, because I feel my age, gender and anonymity can work in my favor. But live events are physically tough. And the expenses to play them are so much higher. So I may be offsetting my playing with online more where I can play multiple tournaments at one time, and they are less of a physical drain on me.
My first big live tournament ( > $1,000 buy in ) is on the first weekend of March. So I have a little time to prepare for this.
3. HOW
A. Study:
Don't stop reading now, because you hate this. If you want to get better you cannot avoid this.
I'm working with a coach. He's an excellent player and an excellent coach. I figured I better post a few results under his mentorship before I share who he is. But… he has won several WSOP Bracelets, and his live tournaments winnings exceed 5 million. I like him very much, he's a good guy and I'm happy to be his student.
I've already made some adjustments, and they are proving to be very effective. I have plenty of leaks, and I'm aware I make mistakes every time I play, but I love to be introspective and learn from them. I'm also lucky I have a coach and a husband and friends who will point out some mistakes too, I welcome the input.
Some advice: If you think you're the GOAT and everyone is just terrible, you probably aren't learning anything. Also nobody likes aces getting cracked stories. Nobody. It happens to all of us, all of the time. Your energy would be better served learning how to deal with it. (and yeah you can call me out on it too if you catch me titling over a bad beat :))
I'm also studying online content, PokerGo events, Twitch streams, podcasts, hand analysis…on my own or with other players (including Monty)
I highly recommend that if you are planning to take poker more seriously, that you take the time to work on your game. Even if you don't go the coach route, there is a ton of content out there that can help you improve your game. And why not get 3 of your friends to spend a couple hours a week just discussing hands?
If you have some favorite go to's that you feel others could benefit from, please feel free to post in the comments.
But here's something that may sound contradictory. Don't get stuck in the analysis paralysis. Just get out and play some damn poker. Matt Vaughn (a great player in Maryland, good guy and former Madison player) posted a great 5 min Vlog on just this subject.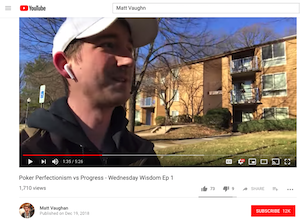 B, C, D: Taking care of my mind, body and balance. I had wrote out a bunch of detail but deleted it. I don't think there is anything I can report that is new or different than what's out there. Reality is, if I want to win tournaments, I have to take care of my mind and body. If I want to be a good human being I need balance and not just be poker all the time. I do wish I had an accountability coach for diet & exercise too, but, I don't. So it's up to me.
I also need to make sure I'm aware of my limitations especially with my Parkinson's symptoms so I don't do things like this again: The great tennis court wipe-out of summer 2019!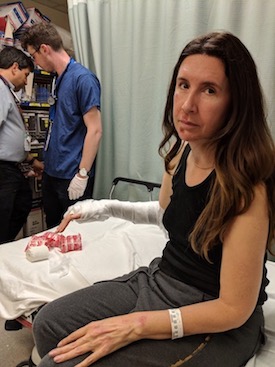 E: Bankroll management & game selection: I think this is one of the most important things in poker. January I'm working on building my bankroll and selecting tournaments within my bankroll at the moment. I'm also planning on playing lots of satellites into the bigger events. I'll dig in deep here and write about it, and keep you in the loop of how I'm doing with this challenge! See you in a couple of days. xo Pdub
#badbeatparky #playlikeagirl #teamPdub
follow my tournament updates here on twitter and same here  if you prefer on IG
Related Posts