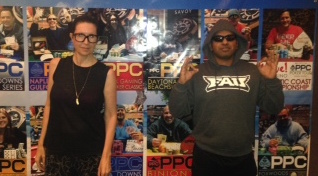 What a trip! After a rough start (I gave myself a candy induced migraine and couldn't fly), we eventually made it to Aruba to play in the PPC World Poker Championships, and to have our first vacation after a crummy summer.
Note: last year when we went to Aruba at this same time, I had cancer. This year, probably not anymore. FTW. And free-rollin' as they say in poker.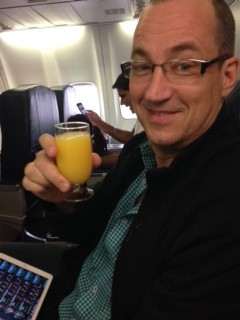 Mimosa #1 on the plane
We had so many great friends with us, and we had a blast both on and off the poker tables. I made friends every time I played. There are definitely a few folks who would be ok with never seeing me again though too with the few bad beats I put on people.
The best part of the trip was the birthday celebration my husband put together for me. I turned 47 on the 5th. We had an 'off' day since we both made day 2 of the main event, to resume on Friday. We started the day at the Ritz for breakfast, and mimosas. We came back to our hotel for more mimosas. I decided I was going to play the Ladies event, which I normally don't like to play, but I decided to play and have fun. Monty insisted I get to the room before the tournament started, which I thought was silly since the mimosas were so great. I finally gave in only to see he arranged to have our room decked out and with a beautiful bouquet of flowers and fruit. I cried.
We headed down to the poker room, and I sat down to the table of very serious ladies for the tournament. I thought that was silly too, so I bought a round of mimosas for the table.
Just as the cards were in the air, out comes a trolley with a birthday cake and sparkler, also masterminded by my husband. More uncontrollable tears. I explained to the ladies I was very happy to be alive surviving breast cancer, and what a special birthday it was for me.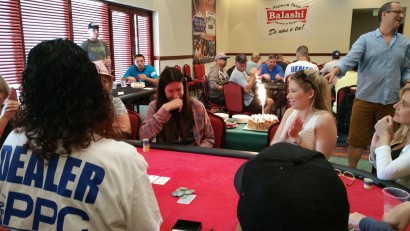 Can I just say how lucky I am to have such an amazing husband? I love him so much.
I almost forgot, he brought me a series of photos he prepared in advance of my two beloved cats Misty & Salem offering me birthday wishes. I mean…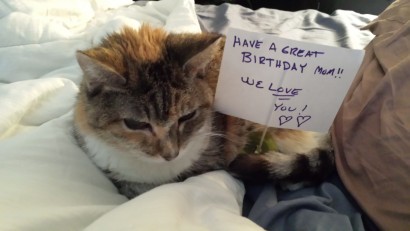 Every single gal at the poker tournament fell in love with my husband, and were texting their significant others to step up their game. So funny.
I placed 3rd in the tournament but had so much fun. Sitting to my right I befriended 'Pinky' who had spent 20 years in the Air Force. What a cool lady.
I was in bed by 7pm many mimosas time, and happy.
Next day, rested and ready to go, I played day 2 of the main event. I had some tough tables, and just couldn't get much going. I ended up 19th, not bad, but not where I wanted to be. I'll learn from my mistakes. We also had 4 players from Madison in the top 20. Great showing Madison friends!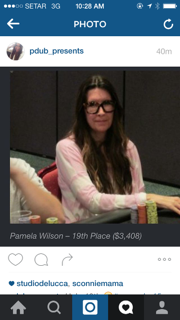 On the last day I played a final tournament and won a package to return the following year. We definitely will.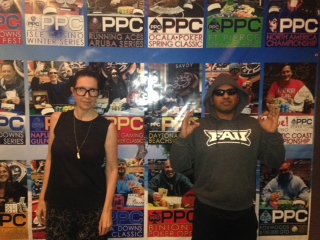 Picture next to our winning 'pictures'. New friend made, we both just won the package for next year 🙂
As I was returning home, I read this kind post on social media from a fellow poker player who was in Aruba.
"Playing a game took you to the finest hotel on the number one paradise island in the southern hemisphere where you got to play another game that resulted in a profit. You are truly at platinum level rock star status in my book.
I admire not only your skills on the tables, but your zest for life.
You are a inspiration for me personally to improve my game, and should be an inspiration to all players everywhere.
I believe you are an excellent role model for all female players and an example of a true champion.
I hope people see this thread and this trip and your play as fuel for their own fire.
I will be playing every event I can to qualify for next year's event.
I hope every reader decides to do that too."
Speechless. Such kind words for him to take the time to express. 
I also realized from this trip that Poker is going to be a great way for me to advocate for greater female participation, equality & empowerment. I will also be able to offer education & awareness about GBS and breast cancer. And most importantly, show goodwill towards all men on and off the tables. It's infectious. I say it that way on purpose as we head into the holiday season. Really think about the words, and put them into action if you can.
Thanks again to the great staff at the PPC, and all of my friends and supporters during the event. You are all so fantastic. xo Pdub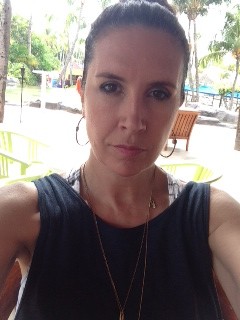 Related Posts