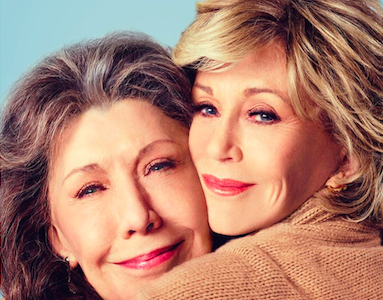 Have you watched the Netflix series "Grace & Frankie"? I found it to be a very healing show at a time when I needed it. I binge watched the first two seasons of the show recently after returning home from an emotional time at my parents house after my beloved Dad's recent passing.
The show is hilarious and important. It stars Jane Fonda & Lily Tomlin in the roles of Grace & Frankie; two unlikely friends in their 70's brought together after their respective husbands announce they are in love (Martin Sheen & Sam Waterson). The entire casting is perfect.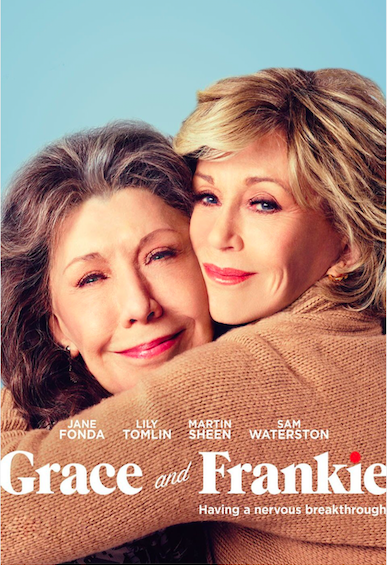 The writing is masterfully done, touching on difficult topics with the perfect balance of comedy and drama. Life transitions, friendship, aging, art, love, business, generational divides, family, health struggles; are all approached brilliantly. It leaves us to thinking, relating, and reflecting. For me I have been struggling with my own grief, aging and health struggles, and it allowed me to laugh at myself by investing in the character's stories, and finding my own healing through them. It also gave me some true LOL's at a time I needed a good laugh.
I have been facing many levels of grief over the past couple of years. Most recently grieving the loss of my father a couple of weeks ago and my beloved pet cat of 18 years Salem just yesterday. I am finding these emotions erratic and difficult to process. I am also grieving my former identities from years of health issues as I mentioned in a previous post, but I am making progress with that. I am slowly getting there and learning to be patient with myself.
I am also becoming more patient and understanding of my aging. Learning to accept the changes as we age is difficult, not only as we deal with it ourselves, but also how society treats us. There's a memorable scene in an episode of Grace & Frankie; both characters were trying to get the attention from a young male clerk at the grocery store to get help with an item. He ignored their repeated efforts, and during those attempts, he proactively assisted a young, beautiful blond girl. This subsequently resulted in Frankie unraveling in the store and screaming 'why are we invisible?', followed up by a 'go F yourself'. Poignant truth, followed by exasperated frustration. I have felt the same way myself, with how others treat me, and with how people treat others.
Alternatively, I have been learning to love the growth that comes with aging. The wisdom that I have and share, not caring so much about what other people think, eating carbohydrates, understanding the preciousness of time and good health are all things that have developed with age. It's weird I still see myself as a spirited young woman but get rattled back to reality when someone refers to me as 'old'. I think my response to that moving forward is going to be 'thank you'.
I look at love and friendship in a much deeper context the older I get. I acknowledge that my marriage is a dynamic force of love, mutual respect, friendship, common and separate interests, compromise and affection.  I cherish it. I treat my friendships similarly and I have learned to nurture my long time friendships, eliminate toxic or non-reciprocal relationships, and to make room for new wonderful people. Grace & Frankie explores love and friendship beautifully too as an underlying theme throughout. Believe me it will make you laugh and cry.
My goal is to view my aging as a gift, my love and relationships as something to cherish, and my time and health as something to never, ever, take for granted. So many things have driven this message home to me recently, I get it. Watching this show was the exclamation point to help me understand the messages more clearly by getting outside my own head and 'stuff' for a change. I hope my voice can help you realize some of these things a little more clearly for yourself too.
I am learning to present myself differently lately. I'm starting to put away 'Pamela with Breast Cancer and Guillain Barre Syndrome', and starting to present myself as 'Pamela the Fashion Blogger, Writer, Poker Player, Philanthropist'. This shift and transition is one of the healthiest things I have done for myself. I am sick of myself being sick I can just imagine how others must feel.
If you are looking for something to watch on a rainy day, I encourage you (of any gender or age) to watch this show. I feel like I'm on the Netflix payroll, (I'm not obviously) but I do give this show high recommendations. I see a lot of Grace & Frankie in myself. Let me know what you think if you watch it. Xo Pdub
Related Posts